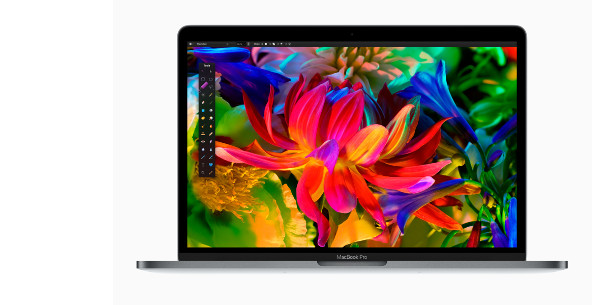 AMD has announced three new professional GPUs for mobile graphics workstations. The Radeon Pro 400 Series GPUs – the Radeon Pro 450, 455 and 460 – will debut in Apple's 15″ MacBook Pro (pictured above).
The new cards were unveiled yesterday alongside Apple's new line-up of MacBook Pros.
Half the thickness of previous chips, and under 35W in power draw
AMD hasn't posted complete specs for the new cards yet, but the key take-home points are that they're thin and power-efficient.
According to AMD, they "operate in a power envelope under 35W", which puts them in the same ballpark as Nvidia's lower-end mobile workstation GPUs, the Quadro M500M to M1000M.
As befits Apple's most slimline MacBook Pros to date – at 1.55cm (0.61″), even the 15″ model is thinnner than the MacBook Air – the chips are also extremely thin: the silicon wafer is just 380 microns thick.
That's under half the thickness of AMD's previous-gen mobile workstation GPUs – or, as AMD's press release helpfully contextualises it, "slightly less than the thickness of four pieces of paper".
Good GPU processing specs and onboard memory for cards of this type
All three cards have an 80GB/s memory bandwidth: a small improvement on AMD's previous-gen FirePro W4190M and FirePro W5170M, and pretty standard for this part of the market.
In terms of GPU processing power, the Radeon Pro 450 has a peak single-precision floating point performance of 1.00 Tflops, the 455 of 1.30 Tflops, and the 460 of 1.86 Tflops.
That's quite a step up from the previous-gen cards, and actually puts the Radeon Pro 460 above Nvidia's Quadro M2000M, which, at 55W, has a significantly higher power draw.
In terms of graphics memory, the Apple website lists the 450 and 455 as having 2GB of GDDR5 memory and the 460 as having 4GB – which, again, would put it on a par with the Quadro M2000M.
Completing AMD's Radeon Pro line-up
The new mobile cards complete AMD's rebranding of its workstation GPUs from FirePro to Radeon Pro. Their desktop counterparts, the Radeon Pro WX 4100, 5100 and 7100, were announced in August.
The firm also unveiled a new product, the Radeon Pro SSG, which is intended for GPU rendering and virtual reality work, and comes with 1TB of graphics memory in the form of NAND flash.
Pricing and availability
The Radeon Pro 450, 455 and 460 are expected to ship installed in the new 15″ MacBook Pros in "two to three weeks". AMD hasn't announced when, or whether, we'll see the new cards in Windows laptops.
AMD also hasn't announced individual pricing for the new cards – but given that mobile GPUs are usually sold pre-installed in laptops, that isn't entirely a surprise.

Read more about the new Radeon Pro 400 Series mobile workstation cards on AMD's website
Tags: 400 Series, AMD, GDDR5, GPU, graphics card, laptop, MacBook Pro, memory bandwidth, mobile, power consumption, power draw, price, processing power, professional, Quadro M1000M, Quadro M2000M, Radeon Pro, Radeon Pro 450, Radeon Pro 455, Radeon Pro 460, release date, specs, thickness, workstation