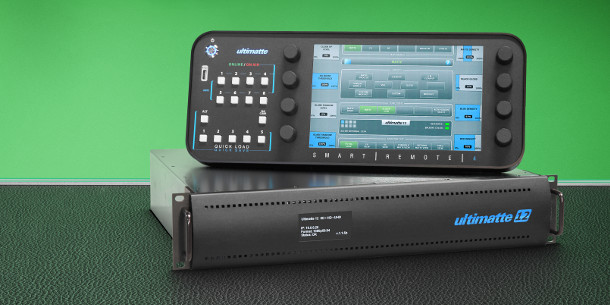 Blackmagic Design has acquired greenscreen removal specialist Ultimatte. The financial terms of the deal, which was announced at IBC 2016, have not been disclosed.
A pioneer of blue and greenscreen keying technology
Founded in 1976, Ultimatte Corporation is one of the fixtures of post-production, responsible for many of the major advances in keying blue and greenscreen footage.
Its late founder, Petro Vlahos, won multiple Sci-Tech Academy Awards for his work, including the Gordon E. Sawyer lifetime achievement award, also since awarded to Ed Catmull and Douglas Trumbull.
Although now purely a developer of real-time keying hardware, the firm previously produced its own greenscreen keying software, including Ultimatte AdvantEdge and the Ultimatte RT plugins.
The technology was subsequently integrated into Nuke.
All of which makes Ultimatte a good fit for Blackmagic Design, which as well as its own hardware business, now owns Nuke's principal competitor, Fusion.
Currently, Fusion uses its own Ultra Keyer and the rival Primatte technology, but Ultimatte seems an obvious addition, particularly given that the firm even used to produce its own Fusion plugin.
Also released: Fusion 8.2 and DaVinci Resolve 12.5.2
In separate IBC news, Blackmagic has officially released Fusion 8.2. The first edition of the compositing software to run on Linux as well as Windows and OS X, Fusion 8.2 was previously available in public beta.
The company also released DaVinci Resolve 12.5.2, a free update to its color correction and editing software, including Linux support for Fusion Connect, its live linking system with Fusion.

Read Blackmagic Design's official announcement about its buyout of Ultimatte
Tags: AdvantEdge, aquisition, Blackmagic Design, bluescreen, buyout, DaVinci Resolve, DaVinci Resolve 12.5.2, Fusion, Fusion 8.2, greenscreen, keying, nuke, Petro Vlahos, Ultimatte, Ultimatte RT