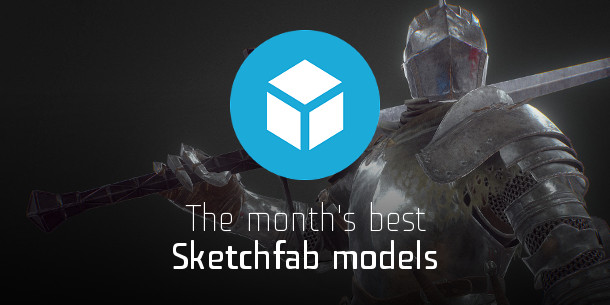 Sketchfab provides a simple way for anyone to publish and share their 3D models online. To celebrate the best in real-time 3D art, we asked the Sketchfab team to pick the 10 greatest models uploaded to the site this month.
To interact with a model in 3D, click the large Play icon in the centre of the frame.
To find out more about a model, click the small Sketchfab logo on the bottom left of the frame.
Dark Souls 3 – Drifter Knight by Isaias Kiister
94.8k faces
Fan art of Dark Souls 3, based on FromSoftware's concept image.
Leather Camera Bag by Nicolas Riley
270.4k faces
Old Rusty Car 2 by Renafox
2.5k faces
Wild Beast by Allods Team
4.7k faces, animated
A creature model from Allods Online 7.0.
Annette Dill by SaladMix Studio
15.6k faces, animated
Elephant_Dalí Worlds by Eduardo Delgado
69.2k faces
[DOTA 2] Legion Commander Set by Pear
6.2k faces, animated
Micro Security by Krzysztof Mikolajcyzk
24.5k faces, animated
Girl by dmimr
1.3M faces (created for 3D printing)
Underwater Diorama by Shannon Lau
21.2k faces, annotated

Want to vote for a model of the month? Just Like your favourites on the Sketchfab site, or upload your own!
Tags: best 3D models, download, February 2016, free, models of the month, real time, Sketchfab