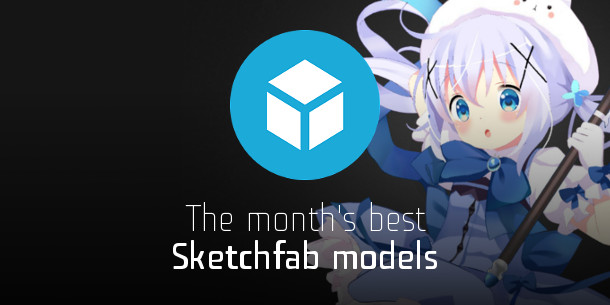 Sketchfab provides a simple way for anyone to publish and share their 3D models online. To celebrate the best in real-time 3D art, we asked the Sketchfab team to pick the 10 greatest models uploaded to the site this month.
To interact with a model in 3D, click the large Play icon in the centre of the frame.
To find out more about a model, click the small Sketchfab logo on the bottom left of the frame.
Chino From Gochuumon Wa Usagi desuka by Vorachai Wijitwongcharoen (X-Kung Work)
422.2k faces
3D fan art of Gochuumon Wa Usagi Desu Ka? See the original 2D source image here.
Alice by Yekaterina Bourykina
2.7k faces, animated
See texture maps for the model on ArtStation, and a timelapse on Yekaterina's Patreon page.
Sand Crawler by micro26
224.2k faces
Super Human by Davyd Vidiger
103.4k faces
Download the model from Davyd's Sketchfab page.


Dungeon by pepedrago
24.4k faces
The Goaty – your best friend by Ayhan Aydogan
7.8k faces
An entry for Blizzard Entertainment's 2016 Student Art Contest.
Mech Constructor: The Beetle (Animated) by Slava Zhuravlev
1.1k faces, animated
Viking – Next-gen Game Character by Ray Thuc Le
29.5k faces
Based on a concept by Leo Lasfargue. See renders and turntables in Ray's ArtStation gallery.
Satyr by 7PLUS Design
124.6k faces
Fantasy House by mubashar
15.1k faces

Want to vote for a model of the month? Just Like your favourites on the Sketchfab site, or upload your own!
Tags: best 3D models, download, free, January 2016, models of the month, real time, Sketchfab