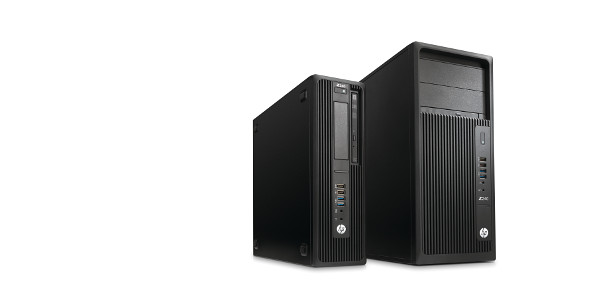 HP has announced two new entry-level models in its Z Series of graphics workstations. The Z240 Tower and Small Form Factor (SFF) machines complete the update begun with last year's Z440, Z640 and Z840.
Although we haven't reviewed the intervening Z220 and Z230 updates, we took a look at the Z210, the precursor of the new models, back in 2012, and were impressed with the system's power.
More RAM, Intel Skylake CPUs, and faster SSDs
As with the higher-end Z Series workstations, the RAM in the Z240 has been increased, raising the upper limit from 32GB to 64GB – the first time an entry-level workstation has supported 64GB of RAM, according to HP.
The available CPUs have been updated to Intel's E3-1200 v5 product family – the upcoming Skylake architecture – once again, with options for either a Core-i5 or Core-i7 processor.
Graphics options range from integrated Intel HD graphics to Nvidia's Quadro K1200 in the SFF machine or the Quadro M4000 in the tower, which also adds options for AMD cards, including the mid-high-end FirePro W7100.
Like their higher-end siblings, both models support Thunderbolt 2 – another first for entry-level machines, according to HP – and the second generation of HP's own Z Turbo Drive high-speed PCIe SSDs.
HP says that it doesn't have final performance stats yet, but estimates a speed boost of around 10-12% over its previous-generation models.
The new models will ship with either Windows 7 Professional or Windows 10 preloaded.
'Seven innovations' in system design
Aside from component updates, HP is touting seven innovations in the new models, most design-related.
"As crazy as it sounds, I'm most excited by the dust filter option," said HP director of worldwide product marketing for workstations Jeff Wood, speaking at the press conference to announce the Z240.
According to HP, the new washable and changeable filters reduce ingress of dust into the systems by "up to 47%", reducing the need to airblast the systems in a clean-room environment during maintenance.
Aside from dust-busting, thermal management has been improved, with new ambient temperature sensors on the motherboard, and increased control of the system fans "to include the power supply".
The legacy PCI slot on the motherboard has been removed to make way for an M.2 slot
Pricing and availability
The Z240 Tower and Small Form Factor models are expected to become available in November, with prices starting at $879 for the base configuration of the SFF: a minimal change from the current-gen Z230.
Read more about the Z240 workstations on HP's website
Tags: AMD, benchmark, CPU, dust filter, E3-1200 v5, entry-level, FirePro, GPU, graphics workstation, HP, Intel, M.2, NVIDIA, NVMe, PCI, PCIe, performance, price, professional workstation, Quadro, RAM, release date, SFF, Skylake, small form factor, speed, SSD, thermal performance, tower, Xeon, Z series, Z Turbo Drive G2, Z240