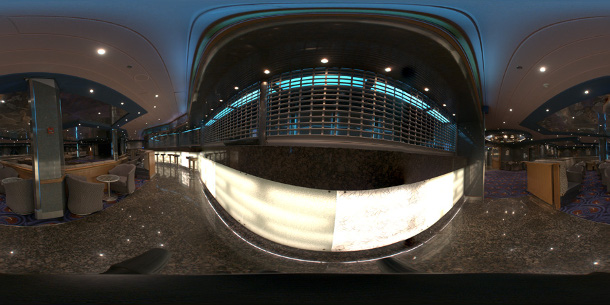 One of Illuminated Tools' five free light probes. All of the files are supplied in EXR format at 4K x 2K resolution. (Note: image has been reduced to 8-bit when converting to a JPEG for display online.)
Originally posted on 1 October 2014. Scroll down for updates.
New online library Illuminated Tools is making five of its light probes free to download. The images are 4K x 2K cylindrical panoramas in EXR format, and are licensed for commercial use.
The current set are a mix of interior and exterior environments, shot at different times of day and night, but the site rotates which images from its library are available free, so it's worth checking back.
In addition to the free content, Illuminated Tools offers browsable galleries of its commercial HDRIs, or a bundle of all 311 probes.
Updated 21 November: Illuminated tools has updated the free probes on its site. The new set of five includes three exteriors, including a snow scene; plus an office interior and a subway platform.
Updated 10 April 2015: The free probes have been updated again. The current set includes three evening and night-time interiors, and two exterior daytime scenes.
Download the five free light probes from Illuminated Tools' website
Tags: 4K, commercial use, download, EXR, free, HDRI, Illuminated Tools, light probe