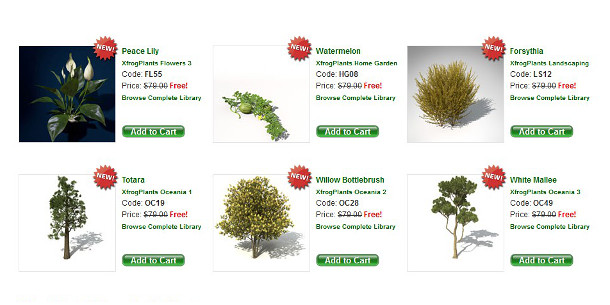 Some of the 36 plant species included in Xfrog's current giveway. In total, 165 plant models are available.
Xfrog has updated the selection of 3D plant and tree models it makes available for free for the second time this month. When you take variant forms into account, the 36 new species represent 165 individual models.
This time round, there's a real mix of plant types, from temperate and tropical trees, through shrubs like Forsythia, to smaller flowers and crops like spinach and watermelon.
Each one comes in a range of formats, including 3DS, OBJ and the native formats of 3ds Max, Cinema 4D, LightWave, Maya, Modo, Terragen and Vue.
Download the free Xfrog plant models from the Xfrog site (Registration required)
Tags: 3D model, 3ds max, Cinema 4D, download, free, LightWave, Maya, modo, plant, shrub, Terragen, tree, Vue, Xfrog