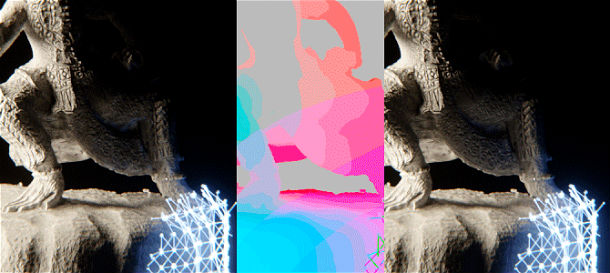 Julien Vanhoenacker has just released Deflicker_Velocity Gizmo for Nuke. According to the developer, the results are particularly useful when dealing with "sharp self-illuminating objects that create complex GI solutions".
VFX artist Julien Vanhoenacker has released Deflicker_Velocity Gizmo for Nuke, a useful-looking tool for reducing lighting flicker when compositing raytrace-rendered footage.
The tool uses information from the previous and succeeding frame to minimise noise, either by direct averaging, or by displacing the present frame based on their velocity passes.
According to Vanhoenacker, the Deflicker_Velocity Gizmo achieves better results than standard denoisers when flickering occurs on the edges of the objects, or on wide GI artefacts, as in light cache or irradiance GI.
On his site, Vanhoenacker provides a more detailed explanation of how the tool works, and additional tips for reducing noise when rendering with V-Ray.
Read more about Deflicker_Velocity Gizmo on Julien Vanhoenacker's website (Includes download link)
Tags: add-on, compositing, Deflcker_Velocity, deflicker, denoise, free, GI, Gizmo, Julien Vanhoenacker, nuke, plugin, raytracing, tool