http://www.youtube.com/watch?v=7U29SgPyIgg
Dell has updated its Precision line of mobile workstations. The new Precision M4700 and M6700 replace the existing M4600 and M6600 models – the latter of which we reviewed in April, and liked a lot.
Today's updates essentially deliver the same, but more of the same, with updated CPUs and GPUs, faster memory, extra storage options and marginally reduced weight.
(There's also a new Covet edition of the M6700, which comes in 'Phoenix Red' and features an edge-to-edge display, but it's purely a cosmetic update, and doesn't affect anything functional.)
Starting prices are also down – at least, if you live in the US, and want the M6700.
A new generation of processors
As with their predecessors, both new Precisions come with Intel Core i5, i7 or i7 Extreme processors, but the old Sandy Bridge CPUs have been replaced with their new Ivy Bridge equivalents.
The GPU line-up has also been updated to Nvidia's new Kepler cards: the Quadro K1000M and K2000M in the case of the M4700, and the K3000M, K4000M and K5000M in the case of the M6700.
Both models also have AMD options: the FirePro M4000 in the case of the M4700; the FirePro M6000 in the case of the M6700 – the latter a Dell exclusive.
RAM remains capped at 32GB, but speed increases from 1,333MHz to 1,600MHz (1,866MHz if you opt for 16GB).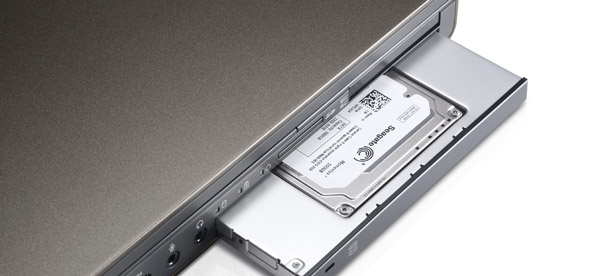 Swap out the optical drive for an SSD, and you can have three storage devices on the M4700, four on the M6700: a first for mobile workstations of their sizes, according to Dell.
Data capacity has also been increased, with the chance to swap out the old optical drive for an SSD, making a possible total of three storage devices on the M4700, or four on the M6700 – the latter totalling up to 2.8TB.
The M6700 also becomes the first mobile workstation to offer a built-in NVIDIA 3D Vision Pro stereoscopic display. How useful this is on a 17″ screen is a moot point, but you can connect an external monitor.
Weight and price
Weight has been slightly reduced, from 3.5kg in the case of the old M6600, to around 3.0kg for a "realistic configuration" of the M6700.
Surprisingly, the starting price of the M6700 has also dropped to $2,199 – down $24 from the MSRP of the M6600.
(We say surprisingly, since Dell usually raises prices after a new release – and indeed, the European starting prices for the M6700 are higher than for the M6600; as are those for the M4700, no matter where you live.)
If you liked the old ones, you'll probably like these
In his review, Jason Lewis described the Precision M6600 as "a versatile and truly portable professional workstation capable of handling any job you can throw at it – and one that has caused me to re-evaluate my opinions on mobile computing".
If you shared his opinion, we see no reason why you shouldn't like the new Precisions even better.
As Dell UK pointed out to us, if you opt for the top-of-the-range graphics options, you actually get more CUDA cores than you can in a standard desktop workstation – and that's some serious mobile computing power.
Both the Precision M4700 and M6700 are available worldwide from today. Full details below the image.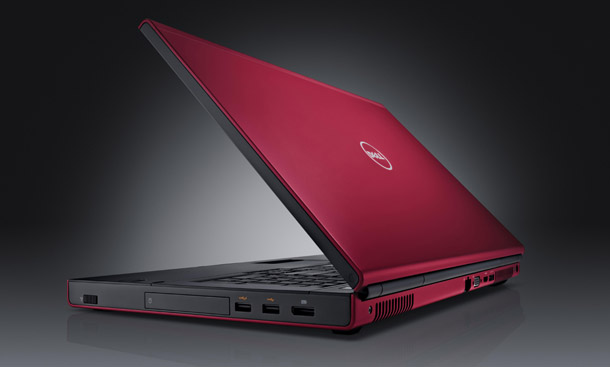 The new Covet edition of the Precision M6700: it's pretty, but it's purely a cosmetic change.
PRESS RELEASE (Excerpts)
Dell today announced the next generation Dell Precision mobile workstations for engineering and design professionals who need uncompromising performance and dependability wherever their demanding work takes them. Film editors on movie sets, architects at construction sites, geophysicists in the field and many other mobile professionals can now run their graphics or compute intensive applications faster and more accurately regardless of the location.
Dell continues to build on its workstation leadership with two new systems, the Dell Precision M4700 and M6700 – the world's most powerful 15-inch and 17-inch mobile workstations. The M4700 is Dell's 15-inch mobile workstation with exceptional portability and performance and the Dell Precision M6700 provides fixed workstation capability and higher performing graphics with a 17-inch display. The popular Covet Edition is back on the 17-inch version, featuring a brilliant Phoenix Red color finish for extra appeal and edge to edge Corning® Gorilla® Glass 2 for brighter images and increased resilience and protection.
Go-Anywhere Performance
The Dell Precision M4700 and M6700 incorporate the latest Intel Core i5, i7 and Extreme Edition processors with Turbo Boost Technology for optimal performance and an extensive choice of professional graphics including the NVIDIA Quadro K-series GPUS and AMD FirePro graphics. The M6700 is the first and only to offer AMD FirePro M6000 with PCIe x16 Gen 3 for fast data throughput.
Additionally, Dell provides DDR3 SDRAM with up to 32GB¹ of system memory and 1600MHz of memory speed and up to 16GB¹ of 1866MHz memory, the fastest memory available on a mobile workstation, for high performance and fast access to large data sets. They also offer an optional SATA3 512GB¹ solid state drive (SSD).
Both systems come with outstanding expandability in the form of RAID 0/1/5 and three storage devices with up to 1.8TB¹ of total storage in the M4700 and up to four storage devices with up to 2.8TB¹ of total storage in the M6700. That means not only can Dell Precision mobile workstations deliver the graphic-intensive designs fast, but also can store them locally no matter where they are.
Delivering on the promise of a true desktop replacement, the M4700 and M6700 offer a wide array of ports which enables users to connect to a greater number of formats and devices without carrying around multiple dongles, increase storage and connect to more displays. The I/O ports include two USB 3.0, two USB 2.0 and one eSATA / USB combo ports and three integrated video ports – one VGA, one HDMI and one DisplayPort 1.2.
Smart Design
Designed for increased uptime and dependability while working in or away from the office, the new mobile workstations feature a durable aluminum and magnesium alloy chassis that is MIL-STD 810G tested, the lightest 17-inch design and all day battery life. An optional slice battery, ExpressCharge battery and NVIDIA Optimus™ technology, which intelligently and automatically optimises the system to provide outstanding graphics performance when needed while extending battery life, are also available on both the M4700 and M6700.
The new workstations also have quiet dual fans and cooling solutions for the CPU and graphics to enable long periods of high performance without overheating and an easy ejectable primary hard drive caddy for customers working with large volumes of data or sensitive data and need to remove or swap out hard drives frequently.
Specifically designed for customers doing colour-critical work, Dell's mobile workstations offer a variety of brilliant WLED and IPS RBG LED display options with a wide spectrum of colours including more than 100 percent Adobe colour gamut. The M6700 will also be the first mobile workstation to offer optional 10+ finger multi-touch in the coming months.
Another first on the M6700 is NVIDIA 3D Vision Pro, a combination of wireless active shutter glasses, an integrated RF communication hub, and advanced software. The technology automatically transforms various CAD/CAM/CAE, DCC, seismic visualisation, life sciences and other applications into full stereoscopic 3D to improve the usefulness of the application, deliver better results and increase productivity.
The M4700 and M6700 can power up to three simultaneous displays when undocked and up to five displays when docked and are compatible with the Latitude E-family dock.
Complete Dependability
Dell Precision mobile workstations come backed with leading Dell ProSupport™², Dell Data Protection | Encryption and FIPS fingerprint reader security features and ISV certifications to keep professional workstation users up and running and their sensitive work and data secure at all times.
All Dell Precision workstations are ISV certified for the top professional software applications from vendors such as Altair, Ansys, Autodesk, Adobe, Avid, Grassvalley, Matrox, Sony, Dassault Systemes, PTC, Siemens PLM Software, Barco, Schlumberger, Landmark, esri, ffA (Foster Findlay Associates), Dynamic Graphics and many others, guaranteeing application compatibility and dependability.
Finally, Dell designed the M4700 and M6700 with the environment in mind from the start. In addition to being EPEAT-registered³ to help customers understand the full breadth of their environmental attributes, both systems fully qualify for the energy-efficiency standard ENERGY STAR. Additionally, they are engineered with smarter materials, including environmentally preferable replacements for Brominated Flame Retardants and Polyvinyl Chloride (BFR/PVCs)?.
Pricing and availability
All three new mobile workstations are available worldwide for purchase starting today. Pricing starts at €1,436/£1,179 for the Dell Precision M4700 and €2,045/£1,669 for the M6700. [$1,649 and $2,199 in the US.]

¹GB means 1 billion bytes and TB equals 1 trillion bytes; significant system memory may be used to support graphics, depending on system memory size and other factor
²Availability and terms of Dell Services vary by region. For more information, visit www.dell.com/servicedescriptions
³EPEAT registration varies by country. Please see www.epeat.net for specific country participation and registration
?Dell adopts the definition of BFR/PVC-free as set forth in the "iNEMI Position Statement on the Definition of 'Low-Halogen' Electronics (BFR/CFR/PVC-free)". External adapters, dongles and power cables are excluded. Service parts may not be BFR/PVC free. For more detail regarding Dell's policy, please see our Corporate Responsibility page at www.dell.com/environment
Tags: Core i5, Core i7, Core i7 Extreme, Covet, CUDA, Dell, K4000M, K5000M, laptop, M4600, M4700, M6600, M6700, mobile workstation, Precision, stereoscopic