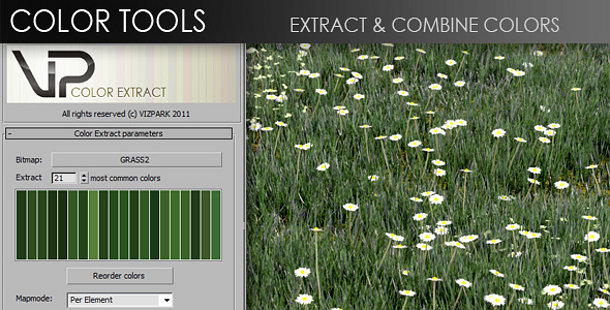 Vizpark has released Color Tools: an interesting set of plugins for extracting colour information from a photo and assigning it to a scene in 3ds Max to create co-ordinated renders.
Color Tools extracts up to the 100 most common colours in a photo and assigns them randomly to objects, elements or procedural maps in a scene. Users can opt to order the colours linearly first, or sort them manually.
The results range from automatically colour-themed scenes to more detailed procedural effects.
Color Tools works with 3ds Max 2010 and above, and is compatible with mental ray 3.6+ and V-Ray 1.5+.
The plugin costs €29 (around $38), but you can test it for free by signing up to Vizpark's beta program. Post three or more bug reports, and you get the software for free once the beta period ends.
Read a detailed feature list for Color Tools
Tags: 3ds max, Color Tools, colour, plugin, Vizpark