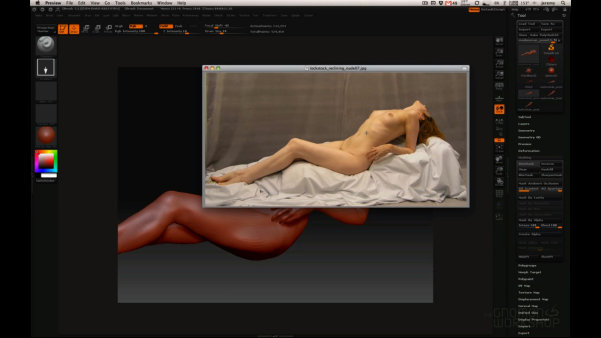 DreamWorks Animation's Jeremy Engelman has released a new three-hour training DVD on 3D figure work through The Gnomon Workshop.
In Creating a 3D Figure Study, Engelman reveals how to create a rapid 'gesture painting' of a female figure, starting from a reference photograph, and using ZBrush, modo, 3D-Coat and Photoshop to build up a fully textured 3D image. The same technique can be used with live models.
The tutorial covers modelling, texturing and lighting; plus converting the piece into a stereoscopic image.
Currently a look development artist for DreamWorks Animation, Engleman previously worked on a range of high-profile games and films, and on projects for Sting and Peter Gabriel.
Creating a 3D Figure Study is available on DVD and as a direct download, price $59.
Click here to buy Creating a 3D Figure Study
Full disclosure: CG Channel is owned by the Gnomon School of Visual Effects.
Tags: 3D-Coat, Creating a 3D Figure Study, figure, gesture painting, Gnomon Workshop, Jeremy Engelman, modelling, modo, ZBrush