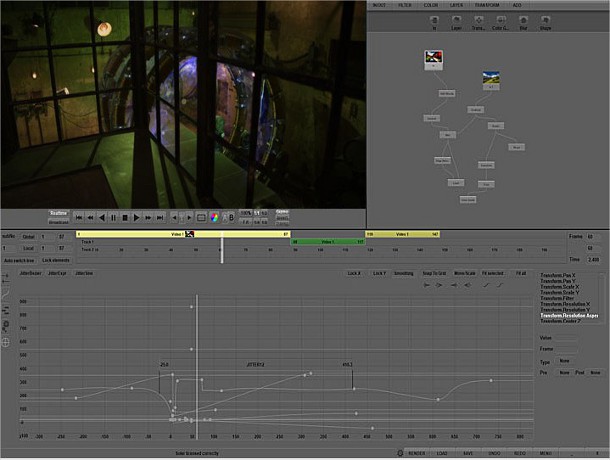 Polish developer Lightstream has released Solar, its new GPU-accelerated high-end compositor for VFX work.
The software provides a node and tree-based workflow, and offers the range of tools one would expect in an app of this type, including layer management tools, colour correction and grading, and additional tools like particle systems and caustics. The system is compatible with standard editing hardware, including Bluefish, AJA and Blackmagic Design boards.
At €2,990 (around $4,430) for the full version of the software, and €1,490 ($2,210) for the base SE edition, Solar occupies a similar price point to Nuke. So what does the product have to offer over its established competitor?
According to Daniel Markowicz, founder and VFX supervisor at Polish studio Lightcraft, which helped develop the technology, one crucial thing: speed.
"Solar is CUDA-based [and] every filter is extremely optimised. So it's amazingly fast. You can work on 100K projects in real-time. Also, it's designed by artists. The UI is designed by CG supervisors."
"It has a fully functional timeline, meaning that you can work on whole ad or movie, not only on one shot, and almost all the effects have Intensity input, so you can control them via masks. It has multiflow – you can use any node for a lot of flows – and some amazing tools like an area tracker, scatter, [particles] and a 3D system."
Breaking into the Hollywood market
The company is currently working to raise awareness of the product outside its local development community, with Lightstream CEO Jerry Stiehl commenting: "We are working with FX supervisors and few industry names using personal connections in NY and LA. We are co-operating on a personal level to develop a better relationship with the end user, and gain Solar ambassadors that will be happy to put their names behind it."
The company also has a range of other finishing and grading tools due for release this year.
No demo videos have yet been posted, but a PDF manual is available, as is a trial version of the software.
Read a feature summary of Solar
Download the full product documentation (PDF format)
Download the trial version of Solar
Tags: compositing, compositor, CUDA, GPU-accelerated, Lightcraft, Lightstream, Polish, Solar, Solar SE