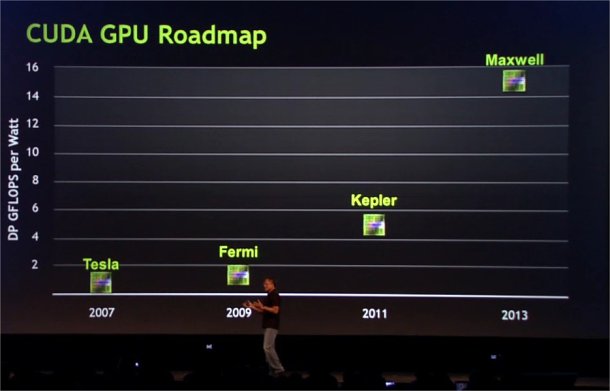 Nvidia revealed details of its new GPU product lines and discussed the state of interactive and cloud rendering during yesterday's keynote at the Nvidia-funded GPU Technology Conference.
Company president and CEO Jen-Hsun Huang invited speakers from Autodesk and mental images to share stage space during the almost-two-hour session, which also provided the first public outing for its two upcoming GPU product ranges.
The Kepler GPUs, due for release in late 2011, are expected to offer up to six times the performance-per-Watt ratio of the existing Tesla GPUs. The Maxwell product range, scheduled to follow in 2013, will offer up to 16 times the performance ratio.
iray in action
Guests invited on stage during the presentation included Autodesk Media & Entertainment Director of Visual Communication Solutions Ken Pimentel (or "Mr. 3ds Max", as Huang put it), and Michael Kaplan, VP of Strategic Development for mental images, in charge of iray.
The discussion, which lasted almost 20 minutes, included a live demonstration of mental images' physically accurate GPU-acclerated interactive renderer, iray, due to become available to 3ds Max Subscription customers next week.
Kaplan showed off iray running on a test scene containing an indirect illumination set-up, with light passing through two layers of glass windows and reflecting off a varnished wood floor.
"There are all the controls you need," he said, indicating a rollout containing a single set of options for render time per frame.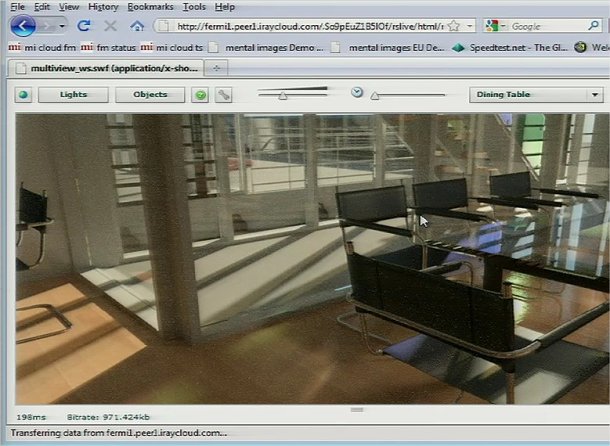 An iray interactive render being performed via the cloud during the GTC keynote.
The trio went on to perform what Pimentel described as "really the first showing of [what you can do with 3ds Max] having published data to the cloud".
To applause from the audience, Pimentel demonstrated caustics being calculated in real time via a distributed online network of computers, rather than from a scene hosted on the desktop machine.
Although the session, which was aimed at a more general computing audience, will contain little that is new to anyone who has been following the development of iray and Autodesk's cloud computing initiatives, it was undeniably exciting to see the process in action.
"This is really the first time that customers will have real-time, photorealistic, interactive tools for decision making. It just hasn't existed before," said Pimentel.
Click here to view the full keynote (the section on iray starts around 56:00)
Tags: 3ds max, cloud computing, Fermi, GPU, iray, Kepler, Maxwell, mental ray, NVIDIA, rendering, Tesla