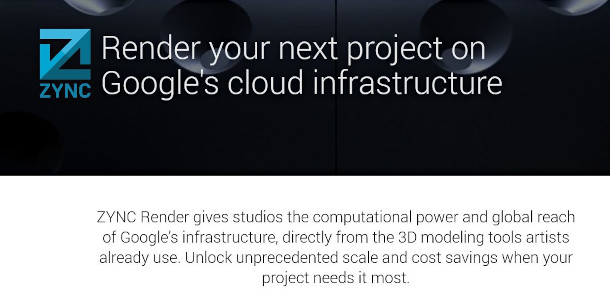 Zync Render's homepage, as archived by Wayback Machine early in 2017. Google has just shut down the online rendering platform for visual effects and animation work, which it originally acquired in 2014.

Google Cloud has officially shut down Zync Render, having closed the service to new users last year.
The online rendering service for VFX work becomes the latest 3D-related Google product to get the axe, following the discontinuation of Tilt Brush and upcoming closure of Google Poly.
Rival cloud rendering services are offering former Zync users discounted rates to migrate.
The end of a pioneering cloud rendering service for hardcore VFX work
Previously an independent service based on Amazon's EC2 cloud, used by VFX firms like Atomic Fiction, Zync was acquired by Google in 2014, and relaunched in 2015 using its own Google Cloud Platform (GCP).
When we covered the last major update to the platform in 2019, its users seemed to be mainly small-to-medium-sized commercials and branding firms, although it was also used on the last Power Rangers movie.
Although Google made no official public announcement, users shared emails from the company last year stating that it would stop accepting new users from 21 June 2020.
The service remained available to existing users until 1 June 2021, but has now been closed entirely with the old Zync Render website now redirecting to a generic Google Cloud product page.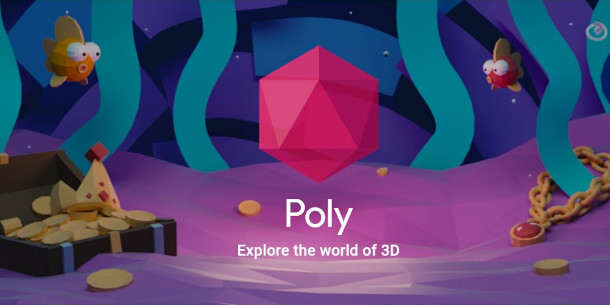 Google is also due to shut online 3D model library Poly later this month, having closed uploads in April 2021.

The latest 3D-related product that Google has closed this year
Zync Render becomes the latest 3D-related product that Google has discontinued this year, following the announcement in January that it has open-sourced VR painting tool Tilt Brush.
Online model library Google Poly closed to new uploads in April, and is due to shut entirely on 30 June.
Alternatives to Zync Render and Google Poly for former users
Rival platforms have now begun promoting themselves as alternatives, with heavyweight cloud rendering and simulation platform GridMarkets discounting its services to former Zync Render users.
Zync users qualify for a 20% bonus on render credits purchased during the first 30 days after signing up.
Conductor, the cloud rendering platform spun out of Atomic Fiction prior to the firm's incorporation into Method Studios, is also promoting itself as a Zync alternative.
As far as we can see, there's no discount for former Zync users, although unlike the Oracle Cloud-based GridMarkets, it is also available on Google Cloud Platform, as well as Amazon Web Services.
For Poly users looking to rehome their models before the site closes, Sketchfab is offering a free transfer app, Poly to Sketchfab, supported by the Google Poly team itself.

Read more about GridMarkets' discount for former Zync Render users
Tags: alternative to Google Poly, alternative to Zync Render, Amazon Web Services, closed, Conductor, discontinued, discount for Zync Render users, Google, Google Cloud, Google Cloud Platform, Google Poly, GridMarkets, open source, Oracle Cloud, Poly, Poly to Sketchfab, shut down, Sketchfab, Tilt Brush, transfer Google Poly models to Sketchfab, Zync Render