Friday, January 20th, 2017

Posted by Jim Thacker
Cost of headsets is holding back VR, says Sketchfab poll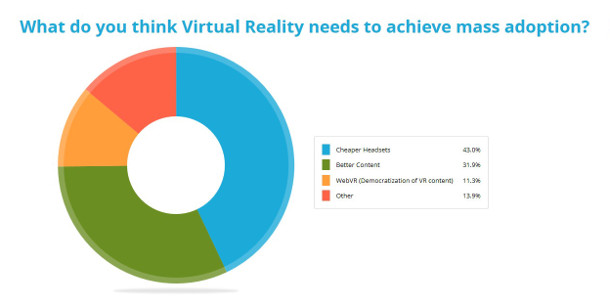 The current cost of VR headsets is the single biggest factor preventing mass adoption of virtual reality, a poll of users of the online 3D portfolio service Sketchfab has revealed.
Billed as "a comprehensive overview of the state of the VR Industry in Q1 2017", the VR Industry Trends survey also suggests that HTC is beating Oculus in the battle for users' hearts, with almost three times as many people naming the HTC Vive as their favourite headset as the Oculus Rift.
Other interesting findings include the fact that simply exploring a virtual environment is more compelling than actually playing a VR game – and that a surprising number of us already use VR headsets in our 3D work.
So who did Sketchfab include in its survey?
Sketchfab says that the survey results are a mixture of analytics from its online community, which numbers over 700,000 users, and a poll of its members, which received over 1,000 responses.
Of the two, the poll generates the more eye-catching findings, the analytics primarily showing how people consume VR content on Sketchfab itself.
Judging by their responses, the 1,000 respondents were largely early adopters: just under 80% had tried a VR headset, and just under 66% already owned one.
The price of VR headset is offputting – whether you've bought one or not
But whether they had already bought a headset or not, the people polled felt that cost – roughly $800 for an HTC Vive or Oculus Rift plus Oculus Touch controllers – was a key stumbling block.
Overall, 43% of respondents felt that VR needed cheaper headsets to achieve mass adoption – the second most popular answer, better VR content, came in at just under 32%.
And among those who hadn't yet bought a headset, price was by far the most significant factor, with nearly 69% saying that current headsets were too expensive.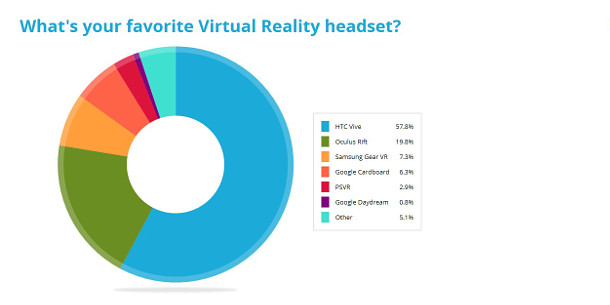 The HTC Vive is the VR headset that most people want to own
Given those findings, it isn't surprising that the headset that most poll respondents actually owned was the cheapest available: Google's $15 Cardboard viewer, which houses a standard smartphone.
However, the much more expensive HTC Vive – on top of the headset, you need a high-end PC to display the content – came in a healthy second: 47% owned one, as opposed to 58.9% for Google Cardboard.
And when it came to poll respondents' favourite headset, the Vive came out easily on top, getting nearly 58% of the votes. The Oculus Rift was a distant second, with just under 20%.


Headsets are practical tools as well as games devices
Another interesting finding from the survey is that simply exploring virtual environments is a more popular use for a VR headset than virtual reality gaming.
It's hard to tell whether that reflects something fundamental about virtual reality, Sketchfab's user base, or simply the fact that there aren't yet that many VR games, but it's still a striking factoid.
And it's surprising how many people already use a headset as part of their 3D work: of the 60.7% of respondents who produce 3D or VR content, just under a quarter had used it for reference when modeling.
You can see the full results of the poll via the link below – including proper versions of the graphs, not our cut-down screenshots. If you enter your email address, you can also download the report as a PDF.