Friday, March 23rd, 2012

Posted by Jim Thacker
VFX breakdown: the making of Stratego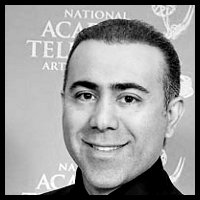 Brain Zoo Studios is an Emmy Award-winning animation studio based in Los Angeles, which specializes in both stylized and photorealistic character animation and visual effects. Since 1995, BZS has consistently raised the bar in 3D animation and visual effects for video games, feature films, television, and commercials.
The company has created a number of award-winning commercials for games, including LEGO Star Wars II and Capcom's Darkwatch: Curse of the West – and more recently, a game of a different vintage. Its recent trailer for 50-year-old board game Stratego – also used for a 30-second TV ad – won Silver Telly Awards for both visual effects and art direction. Below, CEO Mo Davoudian runs through BZS's production process.
Although the classic military board game Stratego was first marketed in 1961, its origins can be traced back to before World War I. But for our recent work on the franchise, we faced a more modern – and more digital – task. In early June 2011, a meeting with Toronto-based Spin Master toys threw up the idea of their Stratego title being made into a high-quality trailer. Eventually, our combined efforts led to what is now the benchmark for the franchise, laying down the foundations for further developing Stratego's story in the future.
The trailer focuses on the efforts of a lone scout in the Red Army, set on a planet in the near future where a never-ending war rages on between the Red and Blue armies. This would become the first ever fully animated Stratego interpretation, just in time for the fiftieth anniversary of the game. Originally planned for 90 seconds of animation, the sheer scale of the world, the characters, and the story demanded even more, pushing the full trailer to 140 seconds, and necessitating a variety of visual effects and studio techniques.
Clocking in at just over 1TB of data, the trailer required a huge range of digital assets, including 30 vehicles and 400 individual soldiers. Working in Maya, Mudbox, MotionBuilder, Photoshop and After Effects – the latter supplemented by Maya Composite – our team of 30 carried out all of the modelling, texturing, animation and compositing work over a seven-week period to meet the deadline of the game's official launch.
Pre-visualization and storyboarding
The concept work for the trailer mixed existing and original ideas. Our concept artists made adjustments to existing vehicle designs and equipment to create a uniform set of characters and machines that matched the vision of a futuristic Stratego. Environments such as the fortress interior and exterior and the objects within it were all created from scratch, taking elements from various industrial, futuristic, and militaristic settings.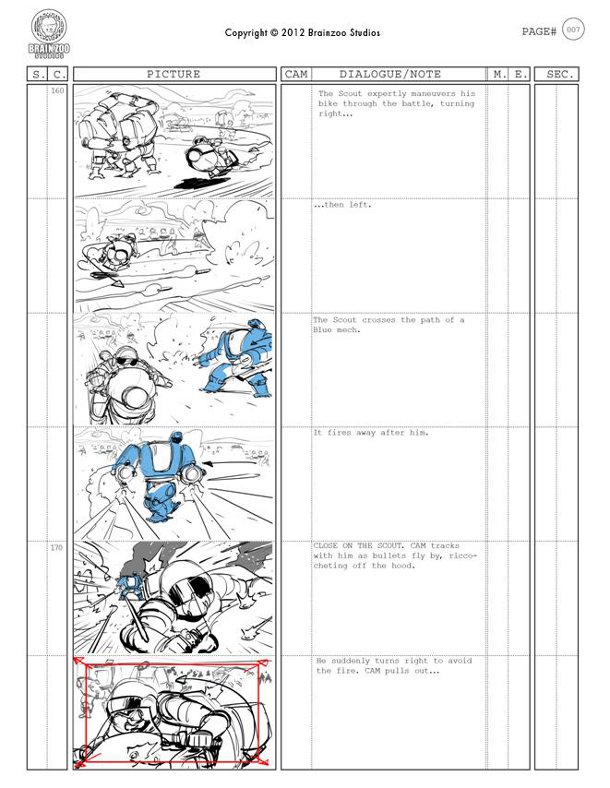 While concepting of these and other elements was under way, storyboards and animatics were being created concurrently in order to move the project along at a steady pace.
Facial scanning and character design
The trailer features a new addition to our repertoire – Next Engine's 3D scanning technology – which captures a wide range of facial expressions to enable the on-screen characters to speak and interact with each other in a realistic and emotional way. We held internal auditions among our own artists and TDs to decide who should 'appear' in the trailer (with a special guest appearance from one of Spin Master's own producers as the scout).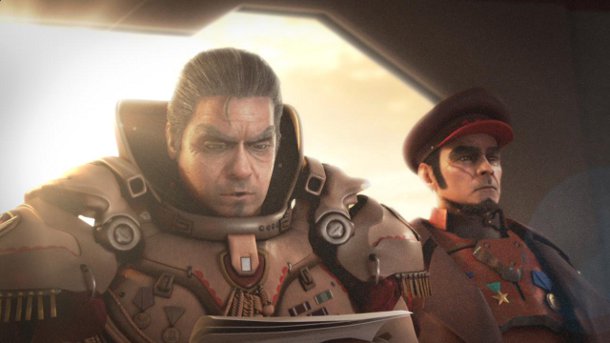 Facial geometry and textures for the characters were captured using a Next Engine 3D laser scanner.
In addition to compiling multiple scans into a series of blendshapes, the process involved capturing multiple HDR images to record skin textures. Our textures were captured at 2,048 x 2,048 resolution, with 10 HDRI references created per model to ensure our modelers and riggers had much more accurate reference material than normal to work with. Our ultimate goal was to give our characters a more human quality, with imperfections in their skin textures and facial structure.
After capturing the raw data, the software bundled with the Next Engine scanner easily imported the data into Maya for clean up. One of the biggest problems we faced was the sensitivity of the camera, since even breathing or small vibrations altered the resulting data when brought into Maya, and needed to be fixed on the spot.
The characters have bone-based facial rigs, supplemented with corrective blendshapes. Variants were created of key models, further enabling us to refine the data: for example, the Marshal was retextured to increase and decrease the apparent age of the original facial scan, enabling the team to create a keyframable 'age' blendshape slider.
Motion capture
Spin Master gave us full control over the mechanics of production, so our first choice for the full-body animation was motion capture. Allowing talented actors to perform both the roles of the soldiers and the mech suits helped to simulate more realistic inertia and dynamics, while simultaneously cutting down on animation time.
The shoot was done on our very own motion-capture stage in the studio, using a PhaseSpace LED-based active optical system. We streamed the data into MotionBuilder, swapping in the Stratego mech model in place of the actor during the shoot to enable our motion-capture director to judge performances more finely.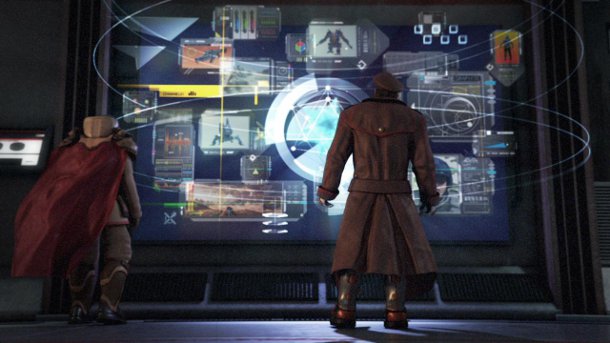 Full-body mocap data for the trailer was recorded with Brain Zoo's in-house PhaseSpace active optical system.
Compared to previous projects, Stratego's mocap data was our cleanest yet, which made the 30 minutes of footage captured for 400 separate models a breeze to process through our pipeline. All told, we spent two or three days cleaning up the data.
Texturing and lighting
Originally, the soldiers of both armies were to have been riddled with bullet holes, but Spin Master mandated that showing blood would be inappropriate for younger players. The change to laser weapons altered the look of the soldiers and mechs: instead of bullet holes, they were peppered with burn marks, with more emphasis on nicks and scratches.
To make sure no one soldier or machine looked alike, each model had dust, dirt, and battle damage randomly generated on its body depending on its position in the battle. Once texture maps had been pre-built to match the surroundings, a custom Python script applied a random diffuse or normal map to each model in a scene within Maya. This process cut down texturing and UV time significantly when it was applied to a large number of models and vehicles.
Obtaining the right atmosphere for the war-torn planet meant that it was necessary to pay close attention to lighting, shading and rendering. We used global illumination in mental ray for both the exterior and interior shots. The raw results still needed some refinement, so we used one-source directional lighting and bounce cards to fill in underlit areas.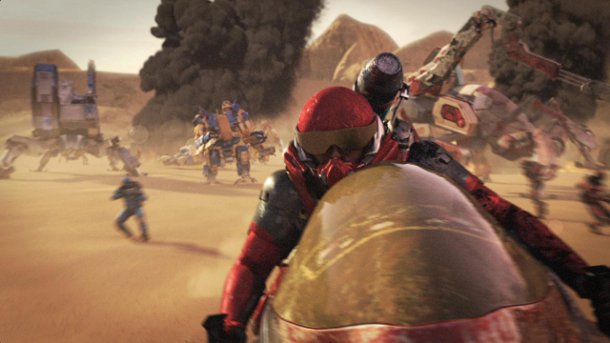 Brain Zoo Studios developed a new GUI for its visual effects asset library for the project.
Smoke and explosions
One thing you can't miss in the trailer are the explosions. Although we had built up an in-house library of effects elements during the course of previous jobs, this project was the catalyst for the development of an in-house GUI that holds all of the dynamic and static assets needed for speeding up production work.
The library also included practical effects elements that acted as a starting point for creating new digital simulations on the fly, as was the case for some of the dust and rocks found on the planet's desert. We used both particle and fluid effects, and some crafty work done on our studio's back lot helped build what will be the template for smoke, sand and sand effects in future projects.
Hologram effects
Another aspect of the project worth mentioning is the MacGuffin data shown on the hologram screen. Completely visualized and implemented by our creative division, 3HeadedRobot, the hologram's contents are a series of over 30 2D and 3D elements. Each layer and its respective camera was exported into After Effects after rendering in Maya, to be combined with the existing 2D elements for lighting and compositing.

The holographic display shown in the trailer is made up of over 30 separate 2D and 3D elements.
Looking back
We really enjoyed working with the Spin Master dream team of Matt Wexler, Peter Kristoffy, Danny Koblin and Karri Bean. They were the ideal client, giving us great direction and yet allowing us creative freedom on the trailer. With just a script and the board game itself to work from, we had the chance to go wild with creative designs and play with new techniques to bring the game's universe to a whole new level. Stratego was a popular game among many of our staff during their childhoods, and that motivated us to achieve goals above and beyond our own expectations.
As a result of the trailer, we will definitely be using facial scanning on new projects, as we relentlessly pursue greater realism in our work. Our pipeline also got optimized, as we overrode Maya's open and save tools to get files in the right directories quicker and to create backups on our servers, minimizing lost work.
Lessons learned
If we had had more time and could have done things differently, we would have made some minor changes to the Stratego trailer:
More explosions on the battlefield
Bigger armies (more vehicles and soldiers in any given shot)
More time spent on facial shots to refine facial scanning and animation
More animation work to smooth out the kinks
More compositing work and 'sweetening' of the VFX to give it that extra 10-20% quality
But even with just seven weeks to complete such a major project, the Stratego trailer has proved a great success. With the assets created for the project, Spin Master simultaneously created both the Stratego website and the TV commercial, which aired on Cartoon Network, Nickelodeon, Nicktoons and Disney XD, and has recently won two Silver Telly Awards.
Both Spin Master and Brain Zoo Studios thoroughly celebrated the success of Stratego, and we've adopted a refreshing and positive mindset moving forward with future projects.
Visit the Brain Zoo Studios website