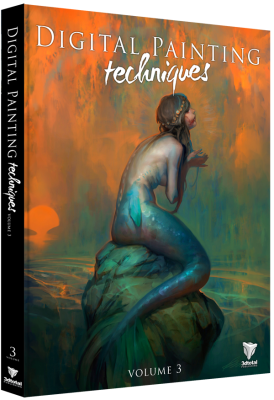 3DTotal's guides to digital painting are getting to be something of a good habit, says Fernando Caire.
With the first two volumes in 3DTotal's Digital Painting Techniques series offering masterly instruction from some of the industry's top professional artists, Volume 3 has a lot to live up to. Fortunately, for these high-gloss art manuals, success is becoming something of a habit.
The first thing I noticed on opening Volume 3 is that is that it feels like more of the same. This is not a bad thing: if the formula isn't broken, why fix it? There are plenty of new categories, artists and painting techniques on display here – just don't expect anything dramatically different from previous volumes.
Like those of its predecessors, the 38 tutorials in Digital Painting Techniques Volume 3 are broken up into nine categories. Some are fairly generic, like monsters, portraiture and matte painting, but there are a few surprises, like 'Creatures from Folklore' and 'The Five Ages of Steampunk'.
The subject matter is fairly diverse, including environments, characters, creatures, and portraiture, so the amount of repetition feels minimal. The techniques are pretty diverse, too: Gediminas Pranckevicius' 'Wasp Woman Returns' even uses a little 3D – not something I was expecting in a digital painting book.
Some weak spots, but more highlights
Most of the work on looks fantastic, but sadly, not every single tutorial is a winner. Alex Ruiz's 'Female Marines' covers some useful techniques, but the final piece looks lackluster compared to the rest of the book. It's crude, poorly executed, and really doesn't feel like it should have been included here.
The volume of information on show can be daunting, but 3DTotal's tutorial layout is thankfully easy to follow. Instruction is broken up into categories, each with accompanying imagery. This comes to the fore in Chee Ming Wong's 'Fantasy' tutorial from The Five Ages of Steampunk, which explores the differences in illustrating a city by day, night and twilight, and includes the different tones and hues that can be used. Quick Tip boxes provide further essential workflow tips and tricks.
Another overall winner
If you enjoyed the previous books in the series, you won't be disappointed with Volume 3. Though the tutorials are easy to follow, readers of every skill level will be able to learn some useful techniques from artists who are clearly masters of their craft. At $49.99, Digital Painting Techniques Volume 3 more than justifies its cost.
Buy Digital Painting Techniques Volume 3 from 3DTotal (£29.99)
Includes a browsable gallery of pages from the book.
Buy Digital Painting Techniques Volume 3 from Amazon.com (RRP: $49.99)
Tags: 3DTotal, art, book, digital painting techniques, Review, tutorial, Volume 3