The official teaser for Plus Minus, '9' director Shane Acker's new animation.
Shane Acker's first student short netted him an Academy Award nomination and the chance to work with Tim Burton. His next project sees the '9' director going back to college in a rather different way – working with 25 staff and students at Hollywood's Gnomon Studios.

Acker pitched the idea for Plus Minus – an animated short in which the "demonic forces of art and commerce fight for territory in a post-apocalyptic inferno" – to Gnomon in September 2009.
The timing was fortunate: while the Gnomon School of Visual Effects was already one of the industry's leading training bodies, founder Alex Alvarez was looking to expand its classroom-based teaching into something more hands-on.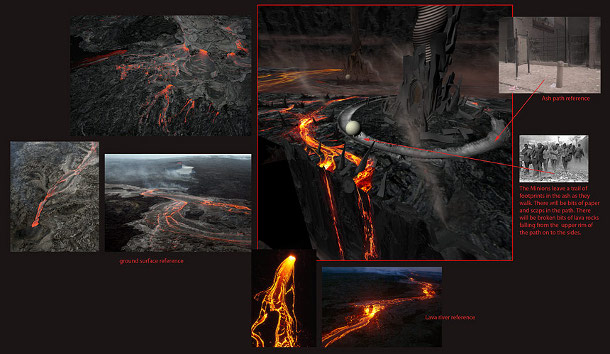 Concept art of one of the movie's brooding environments.
The result was Gnomon Studios, formally launched last year: a chance for advanced students to experience the realities of a Hollywood effects pipeline.
"While Gnomon students participate in group projects through their lab work, those projects don't necessarily reflect the real-world workflow of a visual effects studio," said Alvarez. "Through internships at Gnomon Studios, our students are able to collaborate with renowned directors like Shane on professional projects in a realistic studio environment."


Crew on Plus Minus, including Meni Tsirbas (far right).
Gnomon Studios' first public outings – contributing effects to Green Lantern and Fox sci-fi TV series Fringe – elicted a lot of comment in the industry media: this thread at CG Talk summarises the key issues.
For Plus Minus, Green Lantern VFX supervisor Tefft Smith – himself a Gnomon graduate and instructor – returned to co-ordinate work, working alongside Acker and co-director Aritstomenis 'Meni' Tsirbas, who joined the team in March 2010.
Best known for his award-winning short The Freak and full-length animated feature Battle For Terra, Tsirbas's directorial style provides an interesting counterpoint to Acker's, both seeking to strike a balance between weighty themes and distinctly quirky character design.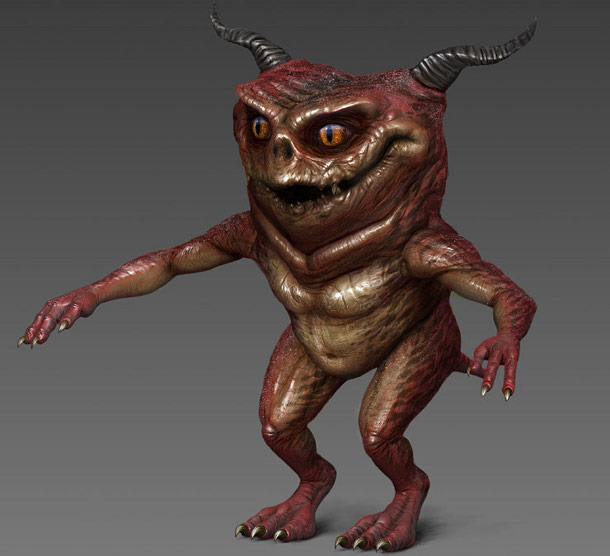 One of Plus Minus's minions takes on 3D form in this WIP model.
Plus Minus sees a similar balancing act, with the animation's Gothic backdrops and symbolic content set against some blackly comic slapstick, as the unfortunate minion above meets an ironic end.
See +-'s creatures and environments go from concept art to final shots.
The result, which is due for a worldwide release later this year, has surprised even its creator.
"What [Plus Minus] has become exceeds even my original expectations for the project," said Acker. "Plus Minus is a joint effort – the result of collaborating with Meni, Tefft and [the staff and students] at Gnomon Studios."
Full disclosure: CG Channel is owned by the Gnomon School of Visual Effects.
Tags: 9, animated short, Gnomon Studios, making of, Meni Tsirbas, Plus Minus, Shane Acker, Tefft Smith