KM-3D – aka tools developer Kamil Małagowski – has released Smooth Boolean 2.0, a new version of his popular Boolean modelling plugin for 3ds Max.
The update improves output when Booleaning low-poly meshes, and adds a nifty new Smooth Bridge modifier, making it possible to join open edgeloops with differing geometry counts.
Designed as an alternative to 3ds Max's tools for real production work
Intended to provide a more powerful alternative to 3ds Max's native Boolean and ProBoolean toolsets in production work, Smooth Boolean originally shipped last year.
Małagowski claims that the topology it creates needs less clean-up than that created by alternative methods.
As well as industrial design, the plugin is targeted at more general modelling work, particularly for games.
According to the product website, "If you just want your 3D models to look great … or you need to bake something for games, you don't have to waste your time trying to model fancy Sub-D meshes."
New in Smooth Boolean 2.0: better performance when Booleaning low-poly meshes
Version 2.0 of the plugin improves workflow with low-poly meshes: the video above pitches it as creating output that "looks like [3ds Max's recently updated Chamfer modifer] but doesn't have its limitations".
The update also improves output when combining high- and low-resolution meshes in a single object.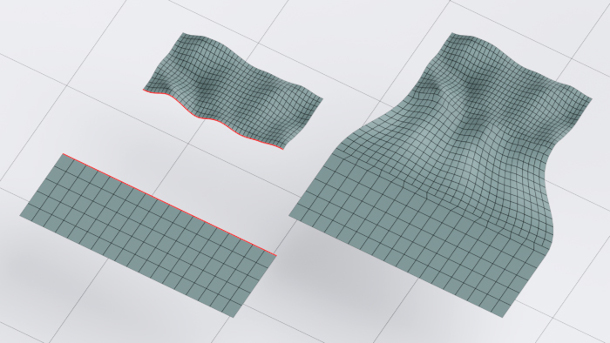 New Smart Bridge modifer joins open edges of meshes with differing geometry counts
In addition, Smooth Boolean 2.0 adds Smart Bridge, a neat-looking new modifier capable of joining the open edge loops of two meshes, even if the edge counts differ.
Another new modifer, sbNormalMap, restores the explicit normals on Smooth Boolean objects after editing, making it possible to edit output without losing the quality of the edges generated.
Base performance has been improved – Małagowski claims that solving a Boolean is now "15-20% faster", while workflow improvements include a visual debugging system highlighting problem parts of a mesh.
Pricing and system requirements
Smooth Boolean 2.0 is available for 3ds Max 2013+. It costs €99 (around $115). A free trial version is avaialble, which previews output, but doesn't generate a renderable mesh.
Read more about the new features in Smooth Boolean 2.0 on KM-3D's website
Tags: 3ds max, Boolean modeling, Boolean operation, chamfer, Kamil Małagowski, KM-3D, low-poly mesh, modifer, new features, plugin, preserve normals, price, ProBoolean, Smart Bridge, Smooth Boolean, Smooth Boolean 2.0, system requirements, visual debugging