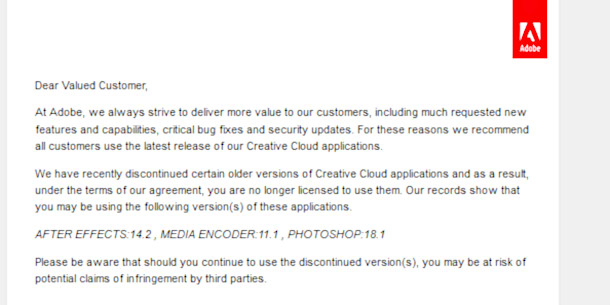 Part of a recent email from Adobe to Creative Cloud subscribers warning that using older versions of the software risks "potential claims of infringement by third parties". Image shared by Twitter user @fishstick_134.

Adobe has sent Creative Cloud subscribers emails warning them that they are no longer licensed to use older versions of its software, and that if they do so, they risk "claims of infringement by third parties".
The issue affects versions of Photoshop older than 18.1.6 and versions of After Effects older than 14, both of which formed part of their respective CC 2017 cycle of product updates.
Creative Cloud download access now limited to recent versions of the software
Adobe announced last week that it was restricting download access from Creative Cloud to the "two most recent major versions" of most of its desktop applications; one in the case of Acrobat.
The firm's blog post presented the move as a way of deploying resources more efficiently, commenting:
"Focusing our efforts on the latest two major releases of Creative Cloud applications … will further enable us to develop the features and functionality most requested by customers."
Since then, however, users who had previously installed older versions of software have received emails from the company saying that they were no longer licensed to use them.
The issue was first reported on Twitter by mobile game developer Matt Roszak, and confirmed by other Twitter users in this thread.
Example of the emails posted online include the phrase: "Please be aware that should you continue to use the discontinued version(s), you may be at risk of potential claims of infringement by third parties."
AppleInsider has a story making a plausible case for the identity of that third party, which you can read here.
PetaPixel has shared a table showing which versions of the Creative Cloud tools are now 'unauthorised', including Photoshop CC 18.1.6 and older and After Effects CC 14 and older.
Adobe points out that the "vast majority" of its users are already on more recent versions of its software, but for those who have stuck with older versions to avoid disrupting ongoing productions or who, like Roszak, use them for backwards-compatibility with archived projects, the news has come as an unwelcome surprise.
Read Adobe's blog post announcing the changes to Creative Cloud download availability
Tags: Adobe, After Effects, CC 2017, Creative Cloud, download access, legal risk, old version, Photoshop, rights infringement, warning