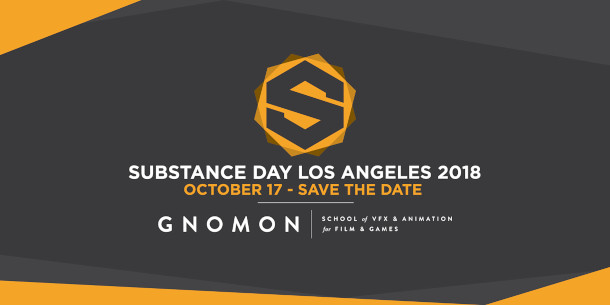 Allegorithmic's Substance Day user events return to Gnomon on Wednesday 17 October with an evening of free masterclasses for its Substance Designer and Substance Painter texturing software.
Discover Substance Painter and Designer techniques from artists at Riot Games and Intrepid Studios
Substance Day Los Angeles 2018 kicks off with a keynote from Allegorithmic CEO Sébastien Deguy providing a sneak peek at what's coming next in the world of Substance, then moves on to practical tips.
In the masterclasses, Intrepid Studios senior material artist Javier Perez will run through his workflow for creating a Viking axe using Substance Designer to create materials.
He will be followed by Riot Games character artist Blair Armitage, who will be exploring how she used Substance Designer in a recent personal project recreating Tifa Lockhart from Final Fantasy VII.
The event will be closed by a one-hour networking session, giving visitors the opportunity to meet the speakers and other members of the Substance user community.
Free to attend, but book online first
Substance Day Los Angeles 2018 takes place at Gnomon's Hollywood campus from 7-10pm on Wednesday 17 October 2018. The event is free, but you'll need to book a ticket online first and turn up early.
Read more about Substance Day Los Angeles 2018 on Allegorithmic's website
Tags: Allegorithmic, Blair Armitage, event, free, Gnomon, Intrepid Studios, Javier Perez, masterclass, networking, Riot Games, Sébastien Deguy, Substance Day Los Angeles 2018, Substance Designer, Substance Painter, talk, tips, Training, tutorial, user event