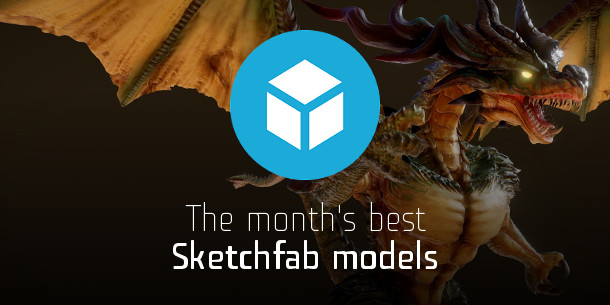 Sketchfab provides a simple way for anyone to publish and share their 3D models online. To celebrate the best in real-time 3D art, we asked the Sketchfab team to pick the 10 greatest models on the site this month.
To interact with a model in 3D, click the large Play icon in the centre of the frame.
To find out more about a model, click the small Sketchfab logo on the bottom left of the frame.
Karus Dragon by AVR Creative Solutions Vietnam
491k triangles
Model created for one of AVR Creative Solutions Vietnam's in-house projects.
Songoku scan by Régis B.
65.4k triangles
3D scan of a real-world Dragon Ball action figure.
Barbarian_Final by yuanluyang
60.5k vertices
Ascent: Infinite Realm: Airship (Official) by Karol Miklas
655.1k triangles (after conversion)
Asset from Bluehole's MMORPG Ascent: Infinite Realm. Concept by Bluehole, developed by Jula Arendt.
Mini John Cooper Works by Olli Teittinen
23.8k vertices
Model created for Gameloft's racing title Asphalt Xtreme.
POLYGON – Dungeon Preview by Synty Studios
50.5k triangles
NYPD Surveillance Drone A-41 by Paul Chambers
1.3M triangles (after conversion), animated
An asset from the VFX shot Police State.
Flying Ice Cream Truck by Mauro Pfister
200.3k triangles (after conversion)
Crossout — 'Frostburn' pack by Crossout
163.5k triangles (after conversion)
Assets from Targem Games' post-apocalyptic MMO Crossout.
Moon base tower v2.0 by Sergey Kuydin
310.9k triangles (after conversion)

Want to vote for a model of the month? Just Like your favourites on the Sketchfab site, or upload your own!
Tags: Ascent Infinite Realm, Asphalt Xtreme, AVR Creative Solutions Vietnam, best 3D models, best real-time models, Bluehole, Crossout, December 2017, Gameloft, models of the month, real time, Sketchfab, Targem Games