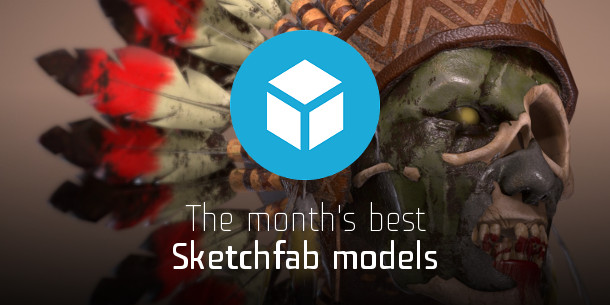 Sketchfab provides a simple way for anyone to publish and share their 3D models online. To celebrate the best in real-time 3D art, we asked the Sketchfab team to pick the greatest models on the site this month.
To interact with a model in 3D, click the large Play icon in the centre of the frame.
To find out more about a model, click the small Sketchfab logo on the bottom left of the frame.
The Apache by dadagutz
39.0k faces
Wireless AM-FM apparatus – Superabundant Edition by Salainen
24.3k faces
Hover Tractor by Riley Eastman
105.6k faces
Created for an installation at Fair Oak Farms. See breakdowns in Riley's ArtStation gallery.
Sea Lurker by Jaime A Garcia
16.9k faces
Chameleon House by Jasmin Habezai-Fekri
13.6k faces
Based on a concept image by MEMESU.
Star Platinum by Ran 画家-Box
186.1k faces
First Aid Tank! by Cristian Villalobos
8.3k faces
Sharky by Eric Barbedor
20.6k faces
Pennywise the Dancing Clown by Ralph Sutter
544.6k faces
Fan art of the original 1990 TV adaptation of Stephen King's It.

Want to vote for a model of the month? Just Like your favourites on the Sketchfab site, or upload your own!
Tags: August 2017, best 3D models, best real-time models, download, models of the month, real time, Sketchfab