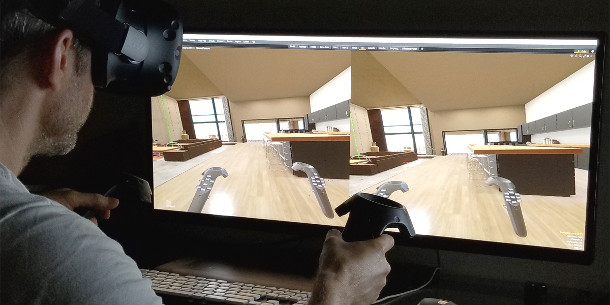 Foundry has released a preview of Modo VR, a work-in-progress technology that enables users to view and manipulate content in virtual reality in the Modo viewport, using an Oculus Rift or HTC Vive headset.
Lay out, playback and review content inside Modo's viewport in VR
We first wrote about Foundry's work on implementing VR support within Modo back in February, at which point it was an internal research project codenamed 'Project Mayhem'.
Today's release will be the first time that Modo users at large get to try that technology.
The webpage announcing the release doesn't go into detail about the feature set, but says that Modo VR allows for "first person manipulation of layout, annotations, playback, and review directly in Modo in VR".
The page also comes with a disclaimer that Modo VR isn't targeted at a particular future release of Modo – and indeed, isn't guaranteed to become part of the core software at all.
However, if you want to try it, you can sign up for the beta program via the link below.
Availability
Modo VR is available as a free beta via the link below. You'll need to be registered Modo user, and to have access to an Oculus Rift or HTC Vive headset.
Project Mayhem was based on a modified version of Modo 10.2, so we assume that you will need to be running that version of Modo or higher, but we'll update once we've confirmed that with Foundry.
Register for the beta of Modo VR on Foundry's website
Tags: beta, download, free, HTC Vive, modo, Modo VR, Oculus Rift, Project Mayhem, virtual reality