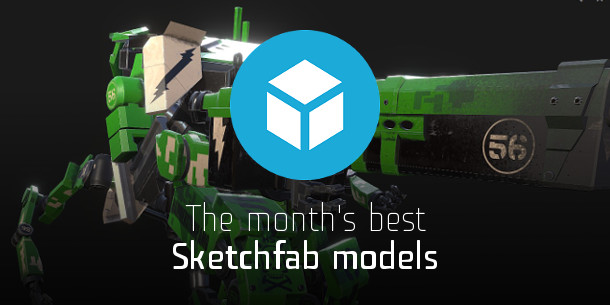 Sketchfab provides a simple way for anyone to publish and share their 3D models online. To celebrate the best in real-time 3D art, we asked the Sketchfab team to pick the 10 greatest models on the site this month.
To interact with a model in 3D, click the large Play icon in the centre of the frame.
To find out more about a model, click the small Sketchfab logo on the bottom left of the frame.
Hammerstrike – GKR by Weta Workshop
40.2k faces, animated
From the upcoming game GKR: Heavy Hitters, developed by Weta Workshop and Cryptozoic.
A.U.T. – CF2 (sci-fi truck) by Sergey Derugin
28.7k faces, animated
See wireframes and screenshots of the rig in Sergey's ArtStation gallery.
Voxel Lighthouse by Coolblu
45.9k faces
Badass rabbit by CG – Art Creation
9.1k faces, animated
Based on a concept by Niel_JX. Texture by Dany Nguyen, rig by Nguyen Dinh, animation by Pham Cuong.
POLYGON – Adventure Pack Preview by Synty Studios
94.6k faces
Mevenn's Eta-2 Actis by Etienne Beschet
21.2k faces
See more renders and related character artowrk in Etienne's ArtStation gallery.
Funny Easter Village by Sou Chen Ki
72.8k faces, animated
90s Jean by Zig Lam
120.7k faces
X-Men fan art.
BMO by Vitor Tavares
76.5k faces
Adventure Time fan art.
Meganob by Dawn of War
11.5k faces
An asset from Relic Entertainment's game Warhammer 40,000: Dawn of War.

Want to vote for a model of the month? Just Like your favourites on the Sketchfab site, or upload your own!
Tags: best 3D models, best real-time models, February 2017, GKR: Heavy Hitters, models of the month, real time, Relic Entertainment, Sketchfab, Warhammer 40000: Dawn of War, Weta Workshop