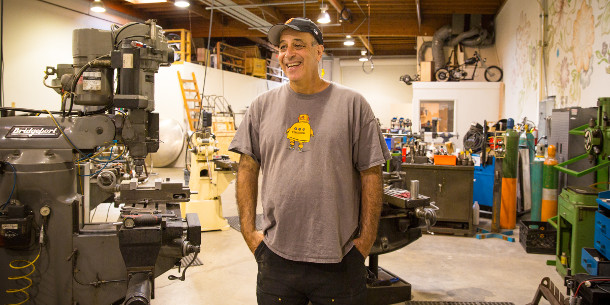 Photo: James Martin.

Autodesk CEO Carl Bass has stepped down. An interim team led by chief product officer Amar Hanspal and chief marketing officer Andrew Anagnost will take over while the firm begins a search for a new CEO.
The company has also announced a new deal with activist investor Sachem Head Capital Management, as part of which, its nominees Scott Ferguson and Jeff Clarke will resign from Autodesk's board of directors.
Cutting a deal with activist investors
According to Autodesk, Bass and the company's board began disussing a "potential CEO transition" over 18 months ago, but put the process on hold after Sachem first targeted Autodesk in 2015.
By 2016, Sachem and fellow activist investor Eminence Capital – which regarded Autodesk's shares as "undervalued" – had acquired a sufficient stake in the company to gain representation at board level.
Today's announcement brings the first phase of the relationship between the two sides to a close, although Bass continues to sit on Autodesk's board of directors and will be nominated for reelection later this year.
Sachem Head Capital has agreed to continue its earlier standstill and voting agreement provisions – effectively an agreement that it will support the Autodesk board – until June 2018.
The other members of the board remain unchanged, and Autodesk has not revised its financial forecasts to shareholders for either the next year or the 2017 financial year.
Carl Bass's personal analysis of his 11 years as Autodesk CEO
In a personal letter on the Autodesk blog, Carl Bass reflects on the big changes from his decade-plus in charge of the company, including the push into cloud services and the move to all-subscription licensing.
It's an interesting read – while the process led Autodesk to cut 925 staff last year, and net losses are still up year-on-year for the most recent fiscal quarter – the company's share price is at an all-time high.
As Bass points out, under his watch, the market value of the company has risen from just over $2 billion to more than $18 billion.
There's also one nice joke. Rather than using the classic formula 'leaving to spend more time with his family', Bass comments: "I am not leaving to spend more time with my family — that presumes my family wants to spend more time with me. I will, however, be spending more time in my shop with my robots."
3ds Max product manager Eddie Perlberg also to leave?
In separate news, several community forums are reporting that 3ds Max product manager Eddie Perlberg is also stepping down, following a message posted on his Facebook feed last night.
The message has since been deleted, but it's quoted in this thread on CGTalk. We've contacted Autodesk to confirm the news and will update if we hear back.
Updated 9 February: Autodesk has confirmed that Eddie Perlberg is no longer 3ds Max product manager but that it is "not sharing future plans for the role at this time".
The company says that the news has no connection with the departure of Carl Bass.

Read Autodesk's official press release announcing Carl Bass's departure
Read Carl Bass's farewell post on the Autodesk blog
Tags: 3ds max, activist investor, autodesk, Carl Bass, CEO, Eddie Perlberg, Eminence Capital, profit, resigns, revenue, Sachem Head Capital, share price, steps down