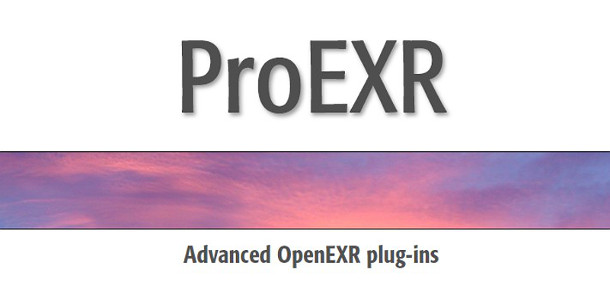 Fnord – aka developer Brendan Bolles – has made ProEXR, its suite of plugins for processing multi-channel EXR files in Photoshop, After Effects and Premiere Pro, open-source.
The set of six plugins – the download also includes three extra After Effects plugins for processing non-RGBA channel data – was originally sold for $95.
Import multi-channel EXR files as separate layers within your host software
ProEXR enables its host software to import and export multi-layer EXR files generated by 3D renderers, importing each of the render passes as a separate layer.
The software supports both 16-bit and 32-bit floating point data, and all of the compression options available in the OpenEXR file format,
The latter includes B44, a lossy method fnord describes as enabling HDR images to be "crushed to a fraction of their uncompressed size, usually without visible artifacts".
Still one to download, even if you use other free tools
The news that ProEXR has been made available for free follows last month's release of Exr-IO, 3d-IO's own free Photoshop plugin for processing multi-channel EXR files.
Bolles had also previously made the Premiere Pro plugin and some of the After Effects plugins open-source – they ship with Premiere Pro CC 2015 and After Effects CS4 and above, respectively.
However, unlike ProEXR, Exr-IO is Windows-only, so if you're a Mac user, ProEXR is worth checking out.
In addition, the version included with After Effects doesn't include the capability to write layered EXR files, so if you use After Effects on any platform, you're going to want the download.
Availability and system requirements
ProEXR is available free under a GPL licence. The plugins are compatible with Photoshop CS3, After Effects CS3 and Premiere Pro CS6 and above, running on Windows or Mac OS X.

Read Brendan Bolles' blog post announcing that ProEXR is available open source
Download ProEXR for Photoshop, After Effects and Premiere Pro for free
Download the source code from GitHub.
Tags: 3d-io, After Effects, B44, Brendan Bolles, compression, download, EXR, Exr-IO, fnord, free, HDR, HDRI, layered, multi-layer, open source, OpenEXR, Photoshop, plugin, Premiere Pro, ProEXR, system requirements