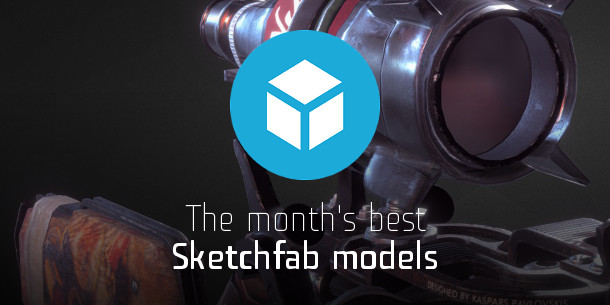 Sketchfab provides a simple way for anyone to publish and share their 3D models online. To celebrate the best in real-time 3D art, we asked the Sketchfab team to pick the 10 greatest models on the site this month.
To interact with a model in 3D, click the large Play icon in the centre of the frame.
To find out more about a model, click the small Sketchfab logo on the bottom left of the frame.
Fallout Nuka Shotgun by Kaspars Pavlovskis
9.9k faces, animated
A Fallout 4 fan model. See more images in Kaspars' ArtStation gallery.
The Nook – 2.5D Texturing by Matt McDaid
4.9k faces
A scene from Matt's tutorial for free CG training eBook VERTEX 3.
A scene from the animated 3D short of the same name.
Robot Dog (with Flamethrower) by Ben Shaffer
10.1k faces, animated
Mysterious Island Centurion by levikingvolant
29.9k faces
Inspired by Jules Verne's novel L'Île Mystérieuse.
Ice Cream Truck – Game Tatassos by Ibrahim Lancoln (Julien Gauthrin)
12.5k faces, animated
Created for a degree project. See more assets from the game in Julien's ArtStation gallery.
Ray Man by Dimitar Grozev
75.8k faces
Li'l Owl by Perrine Lozinguez
15.7k faces
See more renders in Perrine's ArtStation gallery.
Ratchet by Tommy Gunardi Teguh
17.2k faces
Ratchet and Clank fan art, based on a sketch by Joe Madureira. More images in Tommy's ArtStation Gallery.
Sir Didymus by Shingo Hayakawa
60.8k faces
Fan art of Labyrinth.

Want to vote for a model of the month? Just Like your favourites on the Sketchfab site, or upload your own!
Tags: best 3D models, best real-time models, Blizzard Entertainment, Dishonored, eBook, fan art, free, Matt McDaid, models of the month, October 2016, real time, Sketchfab, Training, tutorial, VERTEX 3