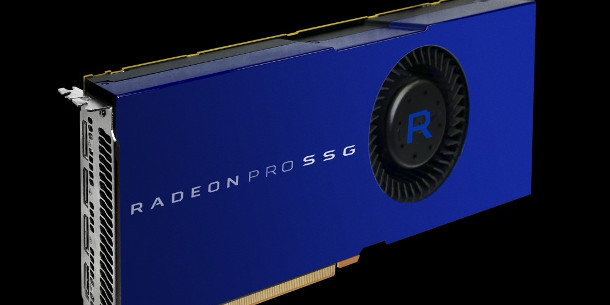 AMD has announced the Radeon Pro SSG: a new top-of-the-range workstation graphics card intended for demanding tasks like GPU rendering and virtual reality, with the capacity for a whopping 1TB of memory.
The announcement was made at Siggraph 2016 last week.
Memory capacity for GPU rendering and virtual reality work
While 1TB may seem like overkill for on-board memory, the extra capacity is essential for the markets that AMD is targeting with the new card, which often require the processing of massive data sets.
In GPU rendering, for example, if a scene does not fit completely into GPU memory, the entire job is kicked back to the CPU: an issue discussed by CG Channel's hardware reviewer Jason Lewis in this recent article.
With current workstation cards topping out at 32GB of graphics RAM, that can be a major issue for real-world production assets, particularly in architectural visualisation or VFX.
Solid state storage rather than GDDR5
In the case of the Radeon Pro SSG, the extra capacity is not provided in the form of native GDDR5 memory, but – as its name suggests – by solid state graphics storage.
The card features two PCIe 3.0 M.2 slots, enabling users to add up to 1TB of NAND flash memory.
While that's unlikely to provide the same performance as native memory, AMD claims that the data transfer speed is good enough for tasks like scrubbing through 8K video in real time.
The firm's press release claims that using the Radeon Pro SSG, scrubbing speed is accelerated from 17 frames per second to over 90 frames per second.
According to AMD: "As content creators rapidly adopt 8K resolution to future-proof their content, a 5x performance boost will improve quality of life, productivity and efficiency in the editing process."
At the minute, the company's website doesn't list any other specs for the card, but you can sign up for updates via the links below.
Pricing and availability
In the immediate future, if you want a Radeon Pro SSG, you'll need to assemble it yourself from a developer kit, which will set you back a hefty $9,999. You can register for one on AMD's website.
According to AMD, "full availability is planned for 2017".
In other news, the firm also announced three more conventional – and more conventionally priced – new workstation graphics cards, the Radeon Pro WX 7100, WX 5100 and W4100. Read about them here.
Read more about the Radeon Pro SSG workstation graphics card on AMD's website
Tags: 1TB, AMD, GDDR5, GPU, GPU computing, GPU rendering, graphics card, memory, NAND flash, price, professional, Radeon Pro, Radeon Pro SSG, SIggraph 2016, specifications, SSD, virtual reality, VR, workstation