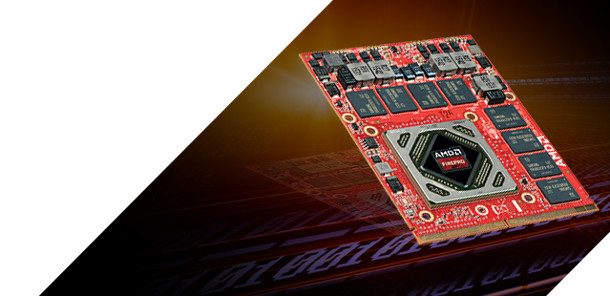 AMD has released the FirePro S7100X, a new small form factor server-class graphics card that the company describes as "the industry's first hardware-virtualised GPU for blade servers".
A virtualisable server-class GPU that 16 users can access simultaneously
Like the FirePro S7150 and S7150 x2 cards, which it released earlier this year, the S7100X uses AMD's Multiuser GPU (MxGPU) technology, enabling up to 16 users to access the GPU simultaneously.
At the time, AMD described its MxGPU boards as "the world's first hardware-virtualised GPU products", characterising Nvidia's GRID platform as software-based.
With the release of the S7100X, it has refined that description to the "first hardware-virtualised GPU compliant with the SR-IOV PCIe virtualization standard".
Semiaccurate has an interesting discussion of the significance of SR-IOV compliance: you can read it here.
AMD claims MxGPU is the "only graphics virtualisation solution in the industry that exposes the graphics functionality of the GPU to the virtual instance allowing full support for APIs like DirectX, OpenGL and OpenCL, enabling applications to be run in virtual environments without altering the code".
Similar specs to the S7150, but smaller and less power-hungry
Like the S7150, the new S7100X sports 2,048 Stream processors – although AMD doesn't quote a figure in Tflops for its compute performance this time round – and 8GB of 256-bit GDDR5 ECC graphics memory.
However, its maximum power consumption is lower – 100W as opposed to 150W – and its form factor is smaller, meaning that it fits into blade servers as opposed to tower and rackmount servers.
Pricing and availability
AMD doesn't list an MSRP for the FirePro S7100X, which will be available through server manufacturers. HP is already offering the card as an option in its HPE ProLiant WS460c Gen9 Graphics Server Blades.
Read more about the FirePro S7100X on AMD's website
Tags: AMD, blade server, compute performance, GPU, graphics card, graphics virtualization, HPE ProLiant WS460C Gen9, memory, Multiuser GPU, MxGPU, power draw, price, S7100X, S7150, server-class, small form factor, specifications, SR-IOV