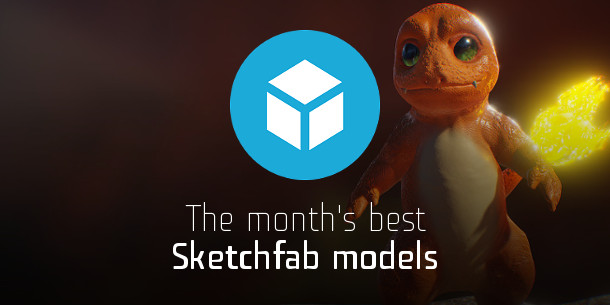 Sketchfab provides a simple way for anyone to publish and share their 3D models online. To celebrate the best in real-time 3D art, we asked the Sketchfab team to pick the 10 greatest models uploaded to the site this month.
To interact with a model in 3D, click the large Play icon in the centre of the frame.
To find out more about a model, click the small Sketchfab logo on the bottom left of the frame.
Charmander by AranGraphics
33.8k faces
Captain Fortune by Yekaterina Bourykina
13.2k faces
League of Legends fan art. See a breakdown of the character in Yekaterina's ArtStation gallery.
Leon and Mathilda by Dmitry Grebenkov
542 faces
Spaceship Crash Site by Lekalo
15.5k faces
Dfg by Boon Kaka
5.4k faces, animated
Sci-fi Girl Walkcycle Test by Patrck Soong
39.2k faces, animated
Uka by Dmitry Grebenkov
4.9k faces
Based on a source illustration by Yulia Yurchenko.
Anthony "Tony" Stark a.k.a. Iron Man by Aléxandros Diábolos
117.2k faces
Wild West by Ruslan Sokolovsky
21.1k faces
See the Android app based on this scene on Google Play.
Summer Lodge by Unreal Master
12.6k faces

Want to vote for a model of the month? Just Like your favourites on the Sketchfab site, or upload your own!
Tags: best 3D models, December 2015, models of the month, real time, Sketchfab