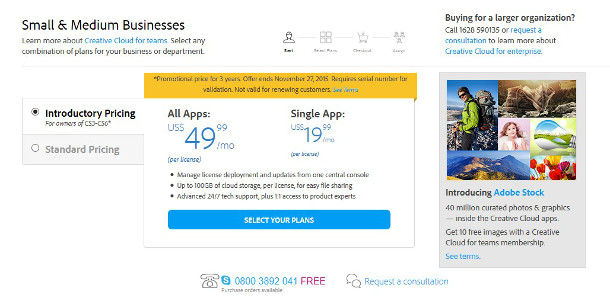 Adobe Creative Cloud for Teams prices are "increasing significantly starting on November 27, 2015", according to a marketing communication reposted on several community forums over the past week.
According to the message, "the new price will be increasing by $240 per year".
No actual change for existing users?
Actually, if you're already a Creative Cloud for Teams subscriber, the price you pay each month may not change.
The increase in question seems to be the end of Adobe's introductory pricing for owners of previous versions of its software, which gives you $20/month off an All Apps subscription, or $10/month off a Single App.
For anyone who transferred to Creative Cloud when it first launched, that discount will already have expired.
Lower pricing for three years – but only if you have an unused pre-CS serial number
The latest communication seems intended to encourage existing users to register for additional seats at the discounted rate which, under the current offer, "will be honored for up to three years".
To do that, you'll need to have a valid serial number for Creative Suite 3 or above (or one of its component applications) that you haven't previously used to claim a discount: renewing users don't qualify.
The change only affects team subscriptions: Adobe is also offering smaller discounts on individual subscriptions until 27 November 2015, but they don't depend on having a previous serial number.
Visit Adobe's Creative Cloud store page
(Introductory discount runs until 27 November)
Tags: Adobe, Creative Cloud, introductory discount, introductory offer, price increase, price rise, pricing, teams