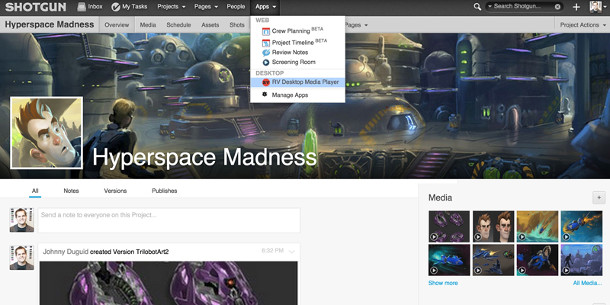 Shotgun Software has announced Shotgun 6 and RV 6, the latest versions of its cloud-based production-tracking and asset-management software and its desktop image and sequence player, at NAB 2015.
As well as individual new features within both applications, the two products will work now together out of the box without the need for user configuration.
Buy Shotgun, get RV for free
The announcement brings the tools a step closer together, following the acquisitions of Shotgun Software and original RV developer Tweak Software by Autodesk over the past year.
The developers had previously announced that Shotgun subscribers would be able to use RV at no extra cost.
With version 6 of the products, users will also be able to access RV using their Shotgun username and password, as shown in the screenshot at the top of the story.
New features in Shotgun 6
Shotgun itself gets new preset project templates for film, commercials, games and episodic TV projects, plus the option to create user-generated templates.
There is also a new navigation widget and interface; and the option to organise tracked assets into customisable hierarchies – for example, to track shots by sequence or episode in episodic TV work.
Integration with other software has been improved. The Flame Engine has been updated, and the Loader app, used to browse files published to Shotgun within tools like 3ds Max, Maya and Nuke, gets a new list view.
New features in RV 6
In RV6, the core edition of the software takes on some of the functionality of its sister editions.
That includes the power to author GPU-accelerated image-processing operations – "everything from simple color transforms to multi-input compositions and editorial transitions" – from RVX.
Users can also export movies or frame sequences with transcoding tool RVIO without the need for a separate RVIO licence.
Pricing and availability
Shotgun 6 with RV integration is expected to be available by the end of April. RV, RVIO and screening-room edition RV-SDI will also remain available as standalone tools.
A $30/month 'Awesome' Shotgun account entitles you to email and online support, and gets you RV; a $50/month 'Super Awesome' account adds videoconference support and gets you RV and RV-SDI.
Read more about the new features in Shotgun 6 and RV 6 on Shotgun Software's blog
(Includes screenshots of the new features)
Tags: asset management, autodesk, Awesome, Flame Engine, hierarchies, image viewer, integration, loader, NAB 2015, navigation, new features, price, production tracking, RV, RV 6, RV-SDI, RVIO, RVX, sequence viewer, shot review, Shotgun, Shotgun 6, Shotgun Software, single login, Super Awesome, templates, transcoding