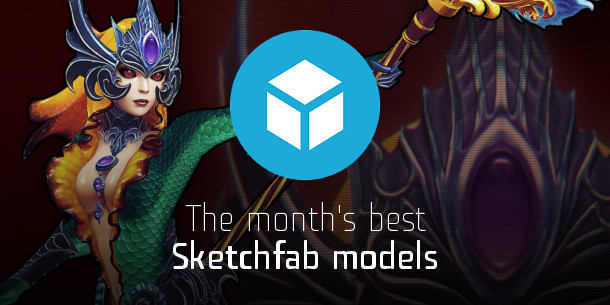 Sketchfab provides a simple way for anyone to publish and share their 3D models online. To celebrate the best in real-time 3D art, we asked the Sketchfab team to pick the 10 greatest models uploaded to the site this month.
To interact with a model in 3D, click the large Play icon in the centre of the frame.
To find out more about a model, click the small Sketchfab logo on the bottom left of the frame.
Nami WIP by Dmitry Cheremisin
14.6k faces
See the final version here
Risryn by Michel Donze
103.8k faces
Bahamut by Simon Strauss
171.3k faces
Ghost Hunter Lulu by haZe
13.3k faces
Riot art contest Caitlyn by Dmitry Grebenkov
3.2k faces
Braum by jeebs
6.7k faces
Twitch: The Plague Rat by Marion Nunez
9.6k faces
Fizz by Brendan Bottomley
26.2k faces
Medusa's Retreat by Jakob Baldwin
224.9k faces
Mangle by I6NIS
28.0k faces

Want to vote for a model of the month? Just Like your favourites on the Sketchfab site, or upload your own!
Tags: 3D models, best 3D models, December 2014, download, models of the month, real time, Sketchfab