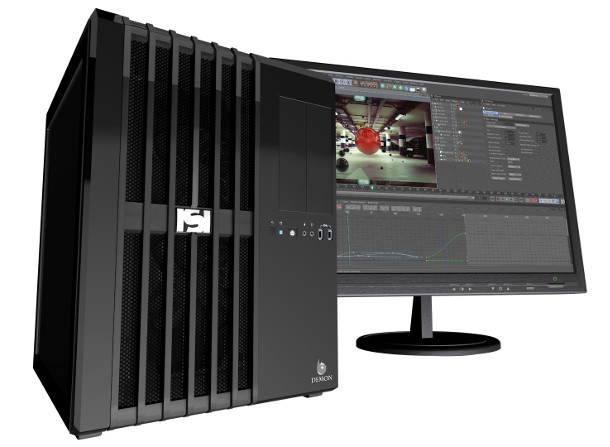 A Demon workstation: one of The Devil & Demon Strategy's new, largely AMD-based, graphics workstations, aimed at small-to-medium-sized studios looking for simple, off-the-shelf systems tailored to visual effects work.
The Devil & Demon Strategy has announced a new range of workstations and render units aimed at visual effects artists, targeting small-to-medium-sized studios looking for simple off-the-shelf solutions.
The firm, whose executive team includes Ted Schilowitz – formerly first employee and 'leader of the rebellion' at RED – describes the new systems, which go on show at NAB 2014, as "supercomputers for everyone".
So what are the system specs?
In total, there are seven models. The four in the Demon range are, at least superficially, fairly conventional workstations: either single-processor models with 32GB RAM or dual-processor models with 64GB RAM.
Less conventionally, two of the models are based around AMD processors. On its site, the company points to AMD CPUs' overclockability, noting that they "remain stable and quiet with [the Demon systems'] liquid cooling".
Or, if you'd prefer to stick with more familiar Intel chips, there are also single-Core i7 or dual-Xeon models. In each case the GPU is an AMD model: a single high-end FirePro W8000. Storage is a dual 240GB SSD.
In keeping with the company's philosophy of simple, off-the-shelf solutions, each model has a fixed spec: you can't upgrade or swap out parts as you would with other system assemblers.
Pricing sounds about right, with list prices of $4,760 and $7,800 for the single and dual-processor AMD models, made more competitive by early-adopter discounts.
The news release doesn't give figures for the Intel-based systems, though – which would be possible to compare more directly with other specialist manufacturers like BOXX.
Updated 8 April: Devil & Demon tells us that its Demon DSPi single-processor Intel system has a list price of $7,550, reduced to $6,418 at NAB; while the dual-processor DMPi costs $12,500, reduced to $10,625.
For context, those list prices are roughly equivalent to, or slightly cheaper than, those for similarly specced BOXX 3DBOXX 4920 and 8920 workstations – although given discrepancies in the exact chipsets and other components used by the two companies, that shouldn't be regarded as an exact like-for-like comparison.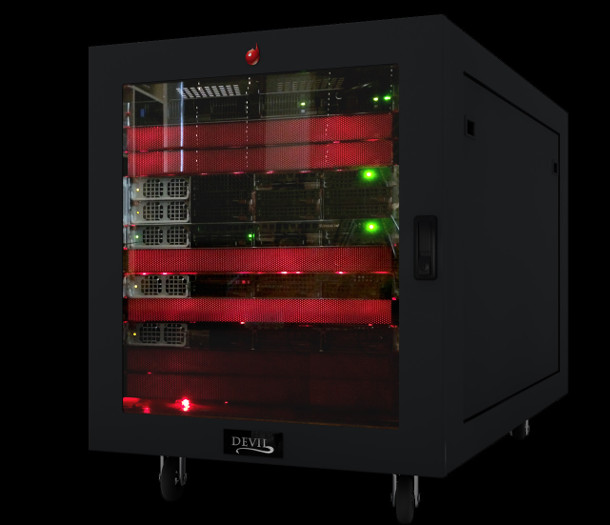 Compact render and simulation units
In addition to the Demon workstations, there are three Devil systems: compact, multi-CPU units connected via Gigibit Ethernet or 56Gb InfiniBand, intended as local alternatives to conventional server rooms.
Devil & Demon describes them as providing "multi-workstation emulation, a distributed processing render machine for huge renders, or a super fast ultra-blade system that out-performs standard blade render set-ups".
The smaller Devil Tamed is purely AMD-based (12 processors with 176 available cores, and dual Dual FirePro S10000 server GPUs) and has 384GB RAM and 5TB storage – again, SSD-based.
The Devil Unleashed mixes AMD and Intel CPUs for 296 available cores, with three Nvidia Tesla K10 server GPUs, and has 512GB RAM and 22TB SSD storage.
There is also a 64-core model, the Devil's Advocate – not listed on the website, but namechecked in the company's official news release – and suggested for accelerating simulation work.
List prices start at $31,500 for the Devil's Advocate and to all the way up to $130,000 for the Devil Unleashed, again with a 15% discount for anyone ordering through NAB.
Unique enough to sell?
There is no shortage of companies assembling specialist workstations for the graphics market, from small firms offering semi-bespoke systems, all the way up to big corporates like HP and Dell.
Whether The Devil & Demon Strategy can elbow its way into the market will depend significantly on the reliability and price-to-performance ratio of its systems – which at this stage, is hard to assess.
However, it already offers several points of differentiation: notably, its AMD-centric strategy and the design of the Devil units – not extensible, but convenient if you don't have space for a dedicated server room.
And in Schilowitz, it has an executive with a track record of bringing disruptive technologies to market. MD John Parenteau, formerly general manager at Pixomondo, also has a long history in the industry.
Whether that adds up to the revolution in supercomputing the firm hints at in its PR is a moot point, but if nothing else, The Devil & Demon Strategy is certainly an interesting new player in the market.
Read specs for the new systems on The Devil & Demon Strategy website
Read The Devil & Demon Strategy's official news release on Computer Graphics World
Tags: demon, Devil & Demon, Devil Tamed, Devil Unleashed, Devil's Advocate, John Parenteau, NAB 2014, Pixomondo, price, RED, rendering, server, simulation, specifications, Ted Schilowitz, The Devil & Demon Strategy, workstation