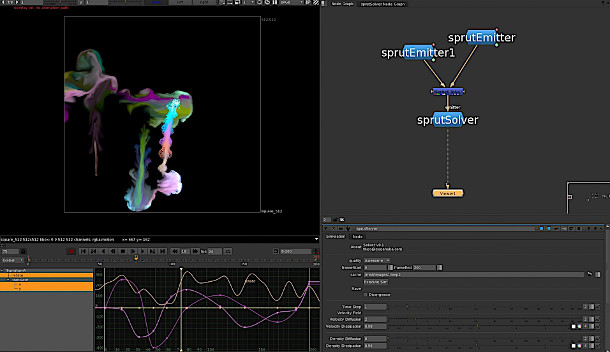 Framestore lead compositor Theodor Groeneboom has released Sprut, a free collection of tools for 2D fluid simulation in Nuke.
The toolset is based on methods set out in Autodesk senior principal scientist Jos Stam's 1999 Siggraph paper Stable Fluids, and includes controls for density, velocity and rate flow.
Sprut also creates and saves UV and velocity data, making it possible to manipulate the simulation results. Sadly, we haven't been able to find a video of its output, but you can see an animated GIF at the foot of this story.
Groeneboom describes Sprut, which was created entirely using standard 2D nodes, as "the first truly open, flexible and portable fluid toolkit within Nuke". It runs on Nuke 6.0 or above on Windows, Linux or Mac OS X.
Read more about Sprut on Theodor Groeneboom's blog
Download Sprut from Nukepedia (Registration required)
Read the announcement thread on The Foundry forums (Tech support)
Tags: 2D, add-on, fluid simulation, fluids, Framestore, free, Jos Stam, nuke, solver, Sprut, Stable Fluids, Theodor Groeneboom, toolset