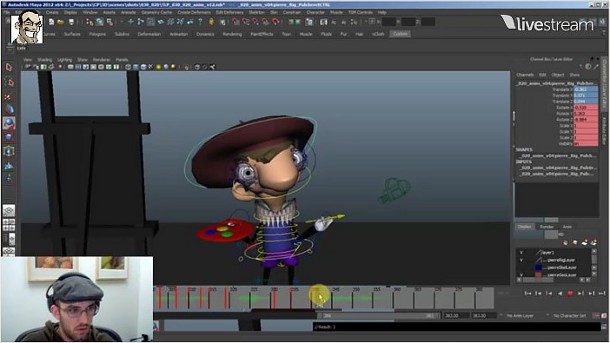 Kenny Roy's desktop at 1pm GMT today. The users of the chat channel were mainly talking about eggs…
Former Weta animator Kenny Roy, owner of Arconyx Animation Studios and a mentor at Animation Mentor, is holding a 24-hour animation marathon to raise funds for his short, The Little Painter.
The live stream, part of his Kickstarter funding campaign for the project, shows Roy's desktop plus a live view of the man himself, as he animates a high-level shot in Maya.
As time of posting (1pm GMT), the stream is half over, but if you're quick, you'll just catch the end.
Updated 7 March: The live stream is now over, but a post on Kenny Roy's website says that he raised over $14,500 in 24 hours. Sweet.
View the live stream on Kenny Roy's website (registration required)
Visit The Little Painter's Kickstarter page
Tags: Animation Mentor, Arconyx, Kenny Roy, Kickstarter, live stream, The Little Painter, weta