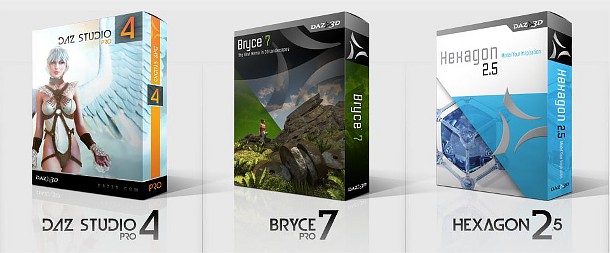 DAZ 3D has made DAZ Studio 4 Pro, Bryce 7 Pro and Hexagon 2.5 available for free until the end of February. We asked CEO Jim Thornton and CSO Dan Farr how it feels to give away tens of millions of dollars of software.
Last week, DAZ 3D began to give away tens of millions of dollars of software for free. The developer announced that it was making three of its 3D applications – figure-posing tool DAZ Studio 4 Pro, landscape generator Bryce 7 Pro and modelling application Hexagon 2.5 – available as free downloads during the month of February: software with a combined value of over $800.
DAZ is unusual in that the majority of its income comes not from its software but stock content for that software, including add-ons for the hugely popular Victoria and Michael lines of digital characters. Nevertheless, software sales still make up around 20% of its revenue.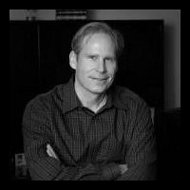 So what prompted the company to gamble with such a significant proportion of its income? According to co-founder Dan Farr (left), now DAZ's Chief Strategy Officer, a key factor was the desire to expand its user base. Although DAZ's software is often labelled 'for hobbyists only', in fact, over 20% of its users are graphics professionals: a figure the developer aims to grow.
?We could have played things safer and continued selling into the same market, but we chose not to do that,? Farr told CG Channel. ?We think that what we have to offer is of interest to the Photoshop and Corel [professional illustration] community.?
Professional 3D artists are another target market, according to company CEO Jim Thornton, who took over in the role from Farr last November. By making its software accessible to the Pixologic and Autodesk user communities, DAZ aims to foster the creation of high-quality assets for its online marketplace: the company's primary source of revenue. ?Our focus is great content,? he said.


Between 20-30% of DAZ's user community are graphics professionals – a figure it aims to grow.
The move has certainly been numerically successful: while Thornton declined to give exact figures, he revealed that downloads were running into ?the hundreds of thousands? within the first week of the promotion.
Although DAZ Studio 4 Pro – the company's flagship product – had seen the most downloads, Thornton said that the numbers were ?evenly balanced?, and that the majority of downloaders had registered the software.
The developer feels that the promotion has ?revived interest in its older products? – Hexagon has not received a significant update since 2008 – and since the downloaded versions are also eligible for future upgrade and crossgrade deals, the tradeoff between current and future revenue may indeed work out in its favour.
One notable absentee from the line-up was Carrara, DAZ's 3D modelling, rendering and animation software. Farr commented that Carrara 9 was expected to ship within the next month or two, and would be the first version of the software to support the company's new Genesis line of 3D figures, introduced with DAZ Studio 4.
Dissenting voices
While most users have been enthusiastic about the giveaway, there have been complaints from those who recently bought the software being given away, particularly DAZ Studio 4 Pro.
?On the one hand, it shows goodness to give products like this for free,? ran one post. ?On the other hand, I'm truly upset because just four months ago I was really supportive of DAZ by purchasing their product and being behind it 100%. I'm not well off, so the money I spent on DS4 Pro amounts to a great deal of cash for me.?
Thornton commented that such posts represent a ?small minority? of the user feedback it has received. ?We've been in touch with those customers and we're dealing with their issues,? he said.
Farr concurred, pointing out that the company has a track record of making content freely available to those on a limited budget. ?Of course we're sympathetic to these issues. DAZ values the loyalty of its long-term users.?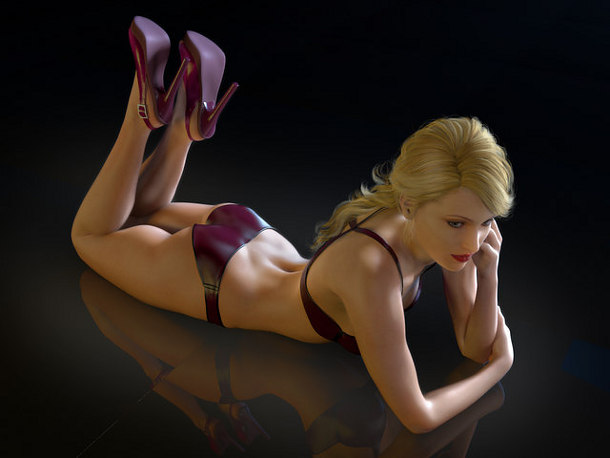 The recently released Victoria 5. In the past, DAZ has also given away the base versions of its figures for free.
In the past, DAZ has risked revenue-generating products in the interests of growing the market: the company made the base editions of Michael and Victoria available for free as long ago as 2005, and has included full versions of its software as part of flat-fee subscription deals.
But last week's announcement goes far beyond such past offers. While history suggests that the company may indeed stand to gain in the long run from increased content sales and software upgrades, surely the decision must have given the DAZ management team a few sleepless nights?
?There were doubts. Of course there were,? says Thornton. ?But even in the first week, [the feedback has justifed the move]. It has exceeded my expectations.?
"Even over a week since the launch we are still seeing 15 times the average number of daily Studio registrations," added Farr. "We definitely believe this move will have an overall positive growth impact for everyone in the 3D industry. Many of the people who are introduced to 3D via Studio, Bryce or Hexagon ultimately end up staying active in the [wider] 3D communities."
Visit the landing page for the DAZ software giveaway
Updated 14 February: DAZ 3D notes that it has been in touch with the author of the forum post quoted in the course of its normal customer service, and the user now describes themselves as "a very happy camper".
Tags: Bryce 7 Pro, Dan Farr, DAZ 3D, DAZ Studio 4 Pro, free, giveaway, Hexagon 2.5, interview, Jim Thornton, offer, promotion, Q&A