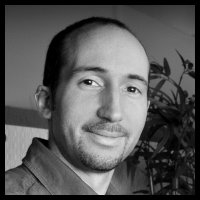 David Couchariere was born in Charleroi, Belgium, and studied at Brussels Royal Academy of Fine Arts and Luxembourg's Technical School of Crafts and Arts. During his studies, he worked as an intern at Luxembourg-based studio Oniria Pictures, eventually staying for three years and working on the CG animated features Tristan and Isolde and Renart the Fox.
Following a stint as layout supervisor and lead animator on 2005's movie version of The Magic Roundabout, Couchariere moved to the USA, working at Blue Sky Studios on Robots and Ice Age: The Meltdown. He is currently a character animator at DreamWorks, where he has worked on Kung Fu Panda, Madagascar 2 and How To Train Your Dragon.
We caught up with David to talk about the secrets of good animation, advice for aspiring professionals – and the thorny question of whether there has been a 'golden age' of animation.
CG Channel: If you had to sum up the essence of good character animation, what would it be?
David Couchariere: Be true to the moment. The fancy stuff – the overlaps, the stretch and squash, the beautiful anticipations and arcs – should always be the cherry on top of the cake.
Personally, I find the hardest part of the craft is to find the 'juice' of the moment I am dealing with: to figure out what will resonate truthfully with the storytelling point I am trying to convey. In my mind, a sincere performance should always outweigh even the masterful execution of a poor acting decision.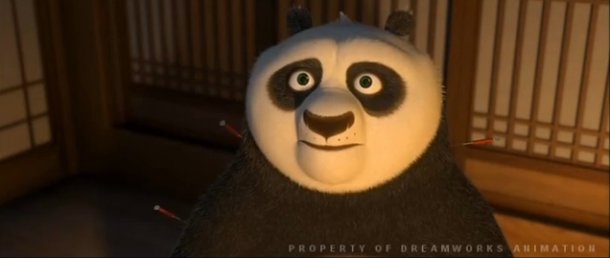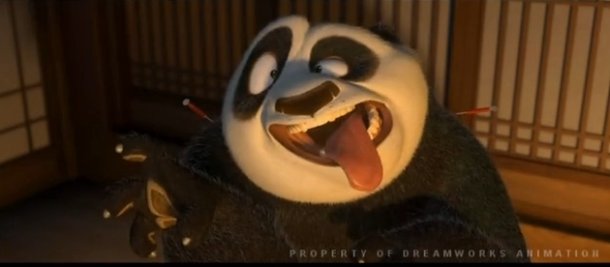 It's all about acting: facial performance from Kung Fu Panda. Images courtesy of DreamWorks Animation, LLC.
CGC: Describe a typical working day at DreamWorks for us.
DC: In morning dailies, the director reviews the department's work from the day before. Then I think about his notes, try to implement them into my shot. Often, I'll act the shot out in front of a mirror, or film myself until it feels sincere to analyze the motion afterwards.
I start animating until the middle of the afternoon, when the director walks around our desks so we can show him our progress. The exchange is more personal here, with fewer people involved. I can get new feedback, then I go back to animating until the end of the day.
CGC: What part of that working day most makes you think: "This is why I do this job."
DC: Usually, it's when my animation crosses the threshold of believability. When what used to be rough blocking starts to feel like the character has a life of its own, it's a truly delightful 'aha' moment. It gives me a rush every time.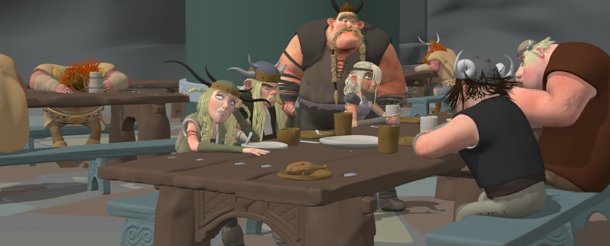 Work in progress: a scene from How to Train Your Dragon with final animation…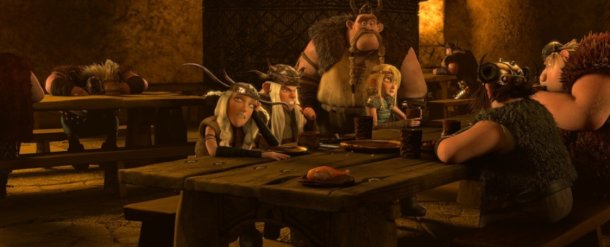 …and the lit and rendered shot. Images courtesy of DreamWorks Animation, LLC.
CGC: What's the best piece of advice for an aspiring animator that you haven't ever seen written down?
That's a tough one, but… when studying animation, don't gauge your level by comparing yourself to other students. Compare yourself to professional animators. It's one of the best ways to secure a chance of employment when you graduate.
CGC: If you could abolish one stylistic trait from professional animation, what would it be?
DC: Nothing. I wouldn't abolish any style. I hear all sorts of opinions about this: too cartoony, too stagey, too realistic, too much this, not enough that. But you can rework any shot so that it works in a specific style – and any style is fine as long as the audience understands what is happening on the screen.
To me, the real questions are: does the animation style match the context of the story you are trying to tell? And are all the shots in the movie consistent in terms of that chosen style?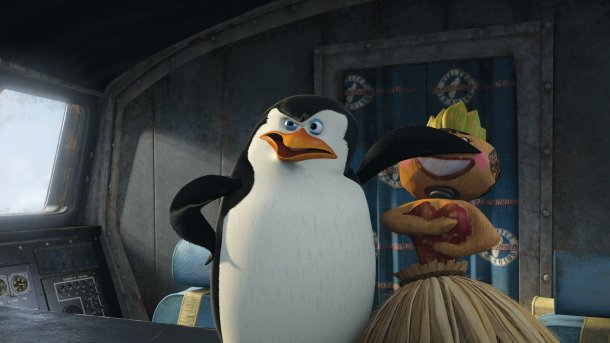 Don't look back: the golden age of animation is happening now, David argues. Madagascar 2 image courtesy of DreamWorks Animation, LLC.
CGC: Which living animator do you most admire?
DC: Glen Keane. I'm just in love with his 2D animation work: you can recognize his style instantly. His drawings are so raw and powerful. He was one of my inspirations when I was an animation student, and he still is today.
CGC: Do you feel there was ever a 'golden age' of animation?
DC: Yes, but I'd pass on the usual ones (1930s to 1960s, late 1980s to mid 1990s) and say 'now'. There are more animation studios nowadays than ever before. and more animated movies released theatrically. Animation is all over the place right now: TV series, videogames, commercials, features – you name it.
In my mind, the past golden ages of animation are all of critical importance to where we stand today. But I can't help feeling we're in the middle of the biggest boom of all.
CGC: And what's the most important thing you've told us today?
DC: That all animation styles are valid, if you use them wisely. And that critical performance choice is the key to great animation.
Read another interview with David at CGArena
Watch a video interview with David at CGSociety
Tags: animator, Blue Sky Studios, character, David Couchariere, Dreamworks, interview, Q&A