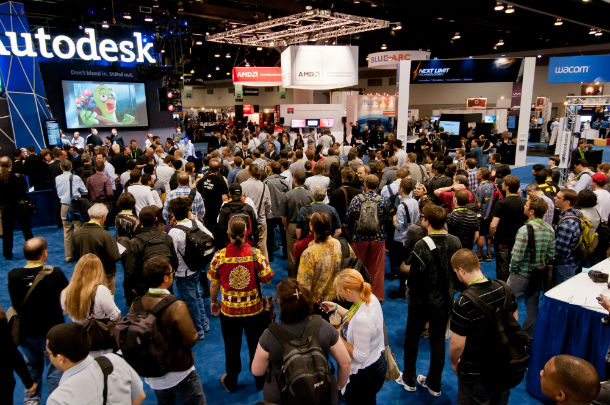 Catch up on the highlights of the world's premier CG conference with our five-minute rundown of Siggraph 2011. (Warning: may take longer than five minutes if you get sidetracked by the videos.)
If you've been following our updates, you'll know that the CG world's premier trade show took place this week.
Almost 16,000 people passed through the doors of the Vancouver Convention Centre during Siggraph 2011, down 6,000 on Los Angeles last year, but still the city's largest ever conference.
Those visiting Vancouver for the first Siggraph to be held outside the US were exposed to a bewildering range of news, new creative work and networking opportunities.
But if you couldn't make it to Canada this year – or if you just want to find out what you missed in the mornings after the parties – our five-minute rundown should tell you everything you need to know.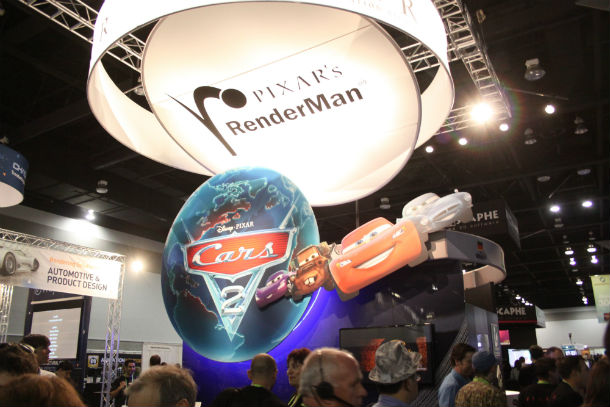 The show floor
Product announcements are the backbone of the expo floor, and Autodesk had five of them. The company was showing off its Advantage Pack updates, free to users on Subscription contracts this September.
3ds Max got a lot of the column inches, thanks to its new State Sets render pass-management system, and interoperability with After Effects.
And iray moved a step closer to full integration within the software, now being supported in ActiveShade render preview windows.
Not to be outdone, the Maya Advantage Pack introduced a new Node Editor and Bullet physics (the video below shows Disney's Dynamica plug-in version, not the native implementation, but you get the general idea).
Softimage users got new modelling tools and ICE nodes, while Mudbox got the Gigatexel engine for painting large data sets in real time.
Autodesk also brought in technology from some of Hollywood's biggest studios, announcing it had signed an exclusive five-year deal to licence Disney's XGen technology (used for hair and vegetation on Tangled).
It also implemented the new Alembic data-interchange format developed by SPI and Lucasfilm in Maya. Not to be outdone, Side Effects put Alembic in Houdini 11.1 – then, for an encore, showed off Houdini 12.
Due into beta in October, Houdini 12 promises huge performance boosts due to its new geometry engine, simulation tools and updated viewport display. According to Side Effects' feature demos, individual toolsets are anywhere between 13 and 1,200 times faster than version 11.
Maxon also announced a packed update to Cinema 4D, promising something for every section of its userbase. Particular highlights included a new physical render engine…
…and new character tools.
You can see more features in Cinema 4D R13, due to ship in September, on Maxon's YouTube channel.
Pixologic released its ZBrush 4R2 teaser just before Siggraph, but since it was (a) on display at the show, and (b) incredible, we've included it again here. The free update is due for release on 20 September.
Figure artists also had two other new packages to try out at the show, in the shape of Poser 9 and Poser Pro 2012, which now feature weight map painting and subsurface scattering. Again, they're due to ship in September.
In the renderer market, Imagination Technologies proved that rumours of Brazil's demise were greatly accelerated, showing off version 3.0, now positioned primarily as an SDK for integrating real-time raytracing into other apps.
Meanwhile, Luxion was showing off KeyShot 3.0. It adds animation tools, dispensing with keyframes in favour of a transform-based system that Luxion claims will enable even non-artists to create polished technical renders.
Those managing larger pipelines got updates to Pixar's RenderMan for Maya and Krakatoa, Thinkbox Software's 3ds Max volumetric particle renderer – which also gained a new standalone edition, Krakatoa SR.
And not to be outdone, asset management specialists Shotgun Software released Shotgun 3.0, while Thinware Media launched an alternative web-based service, StudioCAP.
Papers and research
Over on the cutting edge, Siggraph's technical papers covered everything from shape-based searches for models to better run simulations for quadrupeds. Motionographer has an excellent rundown on its site.

Our personal favourite was Disney Research's OverCoat, a new technology that collapses painting, sculpting and hair simulation into one, enabling artists to create paint strokes in 3D space.
Electronic Theater
But Siggraph isn't just about technology, and the Computer Animation Festival held the usual selection of highlights. A lot of the work featured in the Electronic Theater is still doing the rounds of the festival circuit, so it isn't available online in full, but you can still get a few glimpses.
The Best in Show award went to Moonbot Studios' charming The Fantastic Flying Books of Morris Lessmore, co-created with legendary children's author William Joyce.
Poland's Platige Image, responsible for previous award winners The Cathedral and Fallen Art, turned in a typically gritty piece in the shape of Paths of Hate, which won the Jury Award. There's a making-of here.
http://www.youtube.com/watch?v=LZn65LA2w90
Best Student Project went to another previous winner, Tomer Eshed. Typing 'Flamingo Pride' into a search engine brings back videos of something quite different – so here's his previous short, Our Wonderful Nature.
And that's it: Siggraph 2011 in five minutes. (Longer if you stopped to play the videos). Los Angeles 2012, anyone?