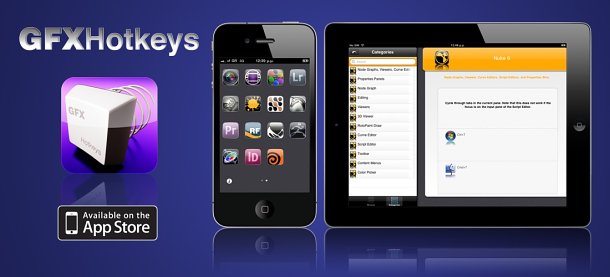 Indie developer Bill Kastanakis has released an app listing the hotkeys for (almost) every major CG package.
Gfx Hotkeys 2.0 lists the keyboard shortcuts for over 30 different 2D, 3D, compositing, grading, tracking and editing applications, for Windows, OS X and Linux.
The app, which is compatible with iPhone, iPod and iPad, even lists the hotkeys for the two most recent versions of several key apps – including Maya, Cinema 4D, Mudbox and ZBrush – separately.
Fans of NewTek will be peeved that LightWave is missing (the only significant omission that we could see), and there's no Android port yet – but overall, it looks like a great little app, particularly for freelancers and anyone who has to desk-hop within a facility.
Gfx Hotkeys 2.0 costs £1.79 (just under $3).
Buy Gfx Hotkeys 2.0 from the Apple store (Requires iTunes)
Tags: 3d, app, Bill Kastanakis, compositing, editing, Gfx Hotkeys 2.0, GFXHotkeys, hotkeys, iOS, iPad, iPhone, iPod, keyboard shortcut, vfx