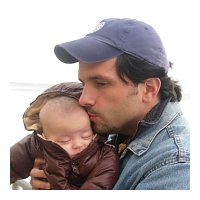 Joe Menna has the unusual distinction of having done not one, but two, jobs that most artists would die for: sculpting the 2010 Lincoln Cent and sculpting Batman.
After ten years studying classical sculpture in the US and St. Petersburg, Russia, he worked for eight years at a foundry, sculpting anonymously for other artists. He is currently a Medallic Artist at the US Mint in Philadelphia, where he designs and sculpts coins.
In his spare time, Menna works as a freelance sculptor for companies like DC Direct, McFarlane Toys, Dark Horse Comics and Hasbro, using ZBrush, Mudbox and Maya to turn scan data and animation models into digital sculpts ready for manufacturing. He has worked on collectible versions of some of the world's best known characters, from Batman to the Ghostbusters franchise.
We caught up with Joe to discuss breaking into the comics market, what companies like DC are like as clients, the skills you need to succeed as a digital sculptor – and what it's like to have your initials on a coin.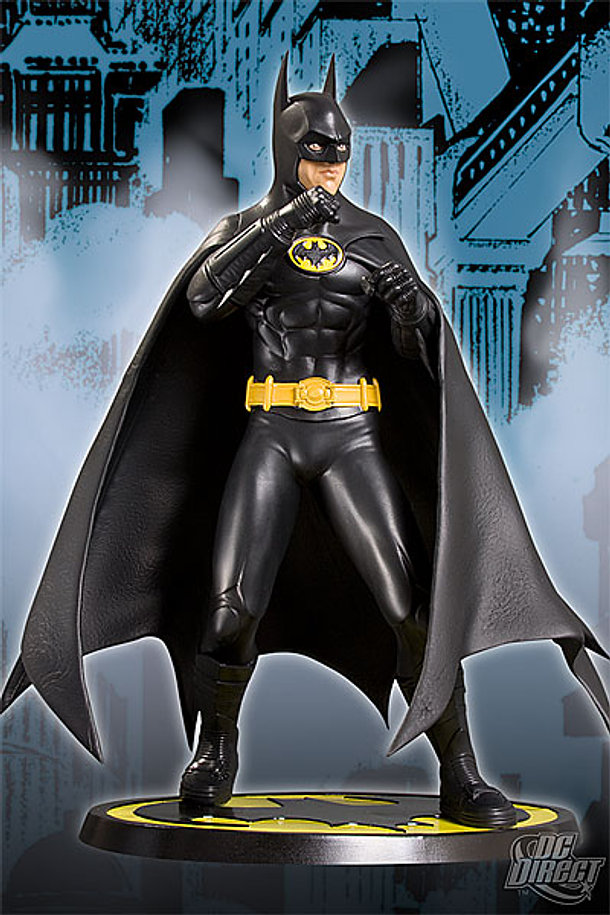 All images used with permission of DC Direct.
CG Channel: So what is it like to have your initials on a coin?
Joe Menna: It's a wonderful feeling. Millions of people use and collect what I create every day. It's a great honor.
CG Channel: How did you get into sculpting collectibles?
I grew up a fan of all things fantasy and science fiction, especially comic books. But despite fooling around trying to get a gig drawing comics after grad school, I decided to continue my studies and go to Russia. When that was done, I got the job in the foundry – but I still had the comics bug.
I did a clay maquette of Conan and one of Captain Marvel (the Marvel Comics version) as potential portfolio pieces, but I didn't want to abandon the classical art I had put so much time into. It was only when I got a day job that gave me the opportunity to do classical work that I let go and indulged my lifelong desire to get involved in comics. Coincidentally, I had already gotten deeply into digital sculpting, and it was that skillset that led to my first freelance gig doing comic-related collectibles.
CGC: What does a typical freelance sculpting job involve?
JM: The first thing I'll get from my art director is either a concept drawing or some type of reference image. I'll also usually get as much supplementary reference material as I need. Following that, I'll just go ahead and sculpt, updating my AD along the way and making any changes he or she needs. The only time it gets protracted is when there's a third-party licensor involved and we both need to wait on them for revisions. That's can take anywhere from the same day to months.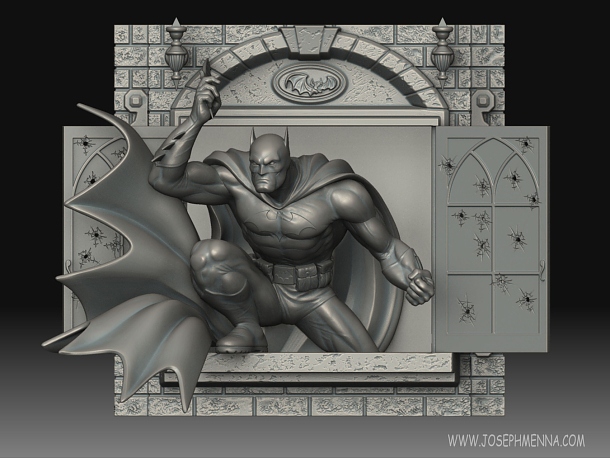 CGC: Companies like DC have specific ways in which they want their characters to be portrayed. How exacting are they to work with?
JM: These characters are part of the fabric of my childhood and I look at every job as a kind of homage, not only to them but the artists who have brought them to life over the years. In the situations where an art director has been very exacting, I've found that it only served to make the project better.
CGC: What about the fans? Are they ever really satisfied?
JM: In my opinion, the fans are what it's all about. Collectors of these statues turn their houses into museums and spend their hard-earned money supporting the industry – and by default, my career.
Plus, these characters have a legacy that deserves to be respected. Every time I sculpt a classic character, it's my chance to add a little piece to that tradition, even if it's not on the pages of a comic. The first time I got to sculpt Batman, I honestly got a little choked up. I'd been waiting my whole life to work for DC Comics and there I was finally doing so (although in a way I never imagined as a kid). It was awesome.
CGC: So what was your favorite job to work on?
JM: The Superman Family multi-part statue I did for DC Comics' collectible branch, DC Direct. It was a big job and a lot of responsibility for them to trust me with. Additionally, I got to contribute design drawings to supplement the original concept established by my art director on the piece, Georg Brewer. In a way, I was finally being paid to draw for DC Comics – and I could not have been happier.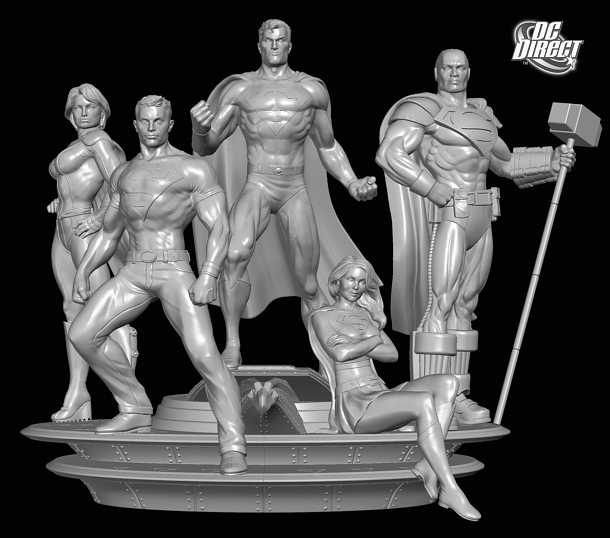 CGC: How does the process of sculpting for production differ from sculpting for your portfolio?
JM: I've only ever created digital models for real-world output, even in they were just for practice or not ultimately produced. I've been involved with this technology since about 2001 and was lucky enough to get exposed to the creation of sculpture from digital data way back then.
CGC: But how would it differ for an artist from a more general entertainment background?
JM: There are a ton of manufacturing concerns that need to be addressed at the digital stage, and understanding how toys and statues are put together is essential. Some companies will just take a raw ZTool from an artist, but you are making both your job and theirs a lot easier if you can do more of the work yourself. I offer my clients everything from digital models to the production-ready paint and tooling masters that are sent directly to the manufacturing facilities.
CGC: Is it necessary to be familiar with any additional tools or software, like FreeForm modelling systems?
JM: FreeForm is a great tool to use along with ZBrush. Aside from it, you could use Magics to make your sculpts more manufacturing-friendly. As it stands, unless you are a complete masochist, you need one of the two to make your models production-ready. Unfortunately, both are really expensive, so they're beyond the budgets of most individuals.
CGC: What tools do they have that ZBrush doesn't?
Pixologic has really gone the extra mile to make ZBrush more useful to sculptors. But incorporating the type of Boolean splitting and cutting features the other apps have and adding some kind of locators or measurement tools would be a big help.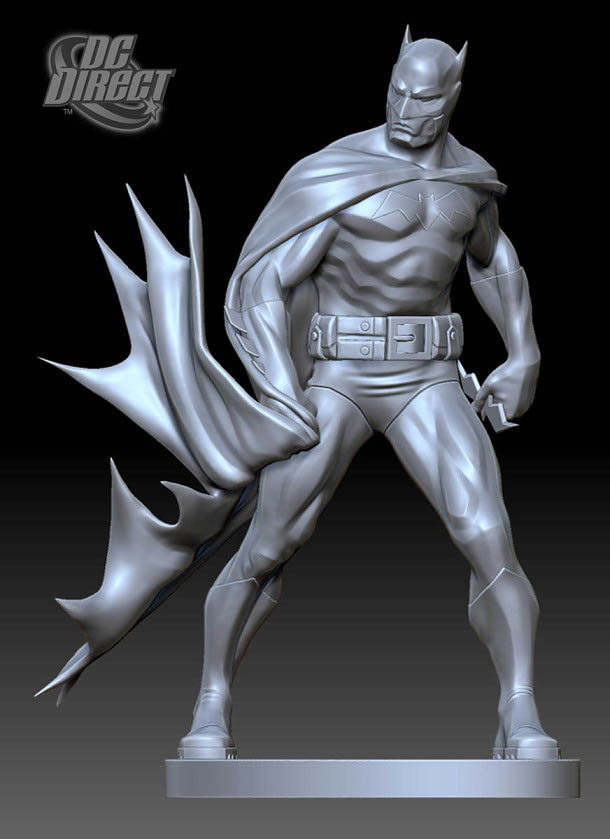 CGC: How important is it to have a background in fine art for this sort of work?
Having gone to an old-school fine art academy, I'm definitely a bit biased, but I think a strong traditional skillset is going to make anyone's art better, digital or otherwise. In my opinion, sound drawing skills are at the core of competent visual expression. Michelangelo essentially said that drawing is everything, and if it was good enough for him…
CGC: So how can wannabe collectibles sculptors improve their skills?
JM: If you don't have an understanding of traditional skills, do everything to remedy that situation! Take life drawing and sculpting classes and learn as much as you can about how forms work in nature.
Also look at the artists in the business who you admire and try figure out how they do what they do. There's a great book, Pop Sculpture, by Tim Bruckner, Ruben Procopio and Zach Oat: two legendary sculptors and the former editor of ToyFare magazine. It's a treasure trove of traditional information and even if you're already a pro, it still needs to be on your shelf. I'm not involved with those fellas or getting any kickbacks: it's really that good.
CGC: What's the most common error you see in novice sculpts?
JM: Jumping to details before the foundation is established. Too often you see sculpts that are covered with tons of wrinkles but look like deflated rubber gloves underneath. All icing and no cake.
Visit Joe Menna's portfolio thread on ZBrushCentral
Tags: batman, coin, collectible, Dark Horse, DC Comics, DC Direct, digital sculptor, figure, Hasbro, Joe Menna, one cent, Superman, Todd McFarlane Comics, toy, US Mint, ZBrush