Enslaved, developed by the same studio that developed Heavenly Sword, Ninja Theory, is set 150 years in the post apocalyptic future United States after a robot-human war.  The machines have destroyed nearly all of humanity and the two main characters Trip and Monkey are two of very few humans left on Earth.  Sound familiar? Maybe, but that's ok because this is still one of the games I am most looking forward to.
The story starts off when Trip and Monkey were on a crashed slave ship and in order to survive the journey back to her home, Trip, the more technically inclined, hacks Monkey's headband, to enslave him. This is the same way remaining humans have been enslaved by the machines.  With Monkey under her control, if she dies he dies putting him in a situation where he is forced to protect her life from the numerous perils throughout their journey.  If your familiar with the story of Journey to the West then you will see how that was drawn on for inspiration.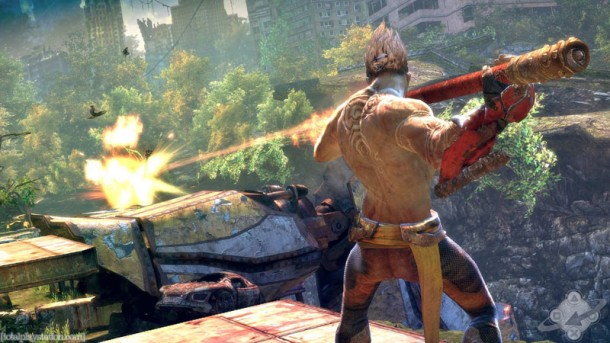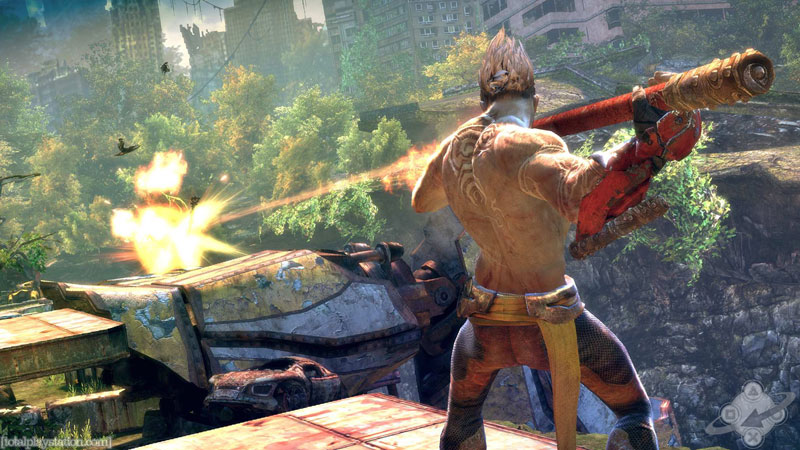 You play through the game as Monkey, using his monkey like abilities, to traverse destroyed cities that have been freshly vegetated in an eerily beautiful way.  Later on in the game you will be able to ride on Monkey's cloud to travel more quickly through the environments.  You must destroy the various mechs trying to kill you, which come in differing forms such as canine, sentry, battle mechs, and many more.  Where the fun comes in is the sophisticated combo system that only keeps getting better as you progress through the game.  You will be able to gain new abilities, enhancements and upgrades by collecting 'tech orbs' throughout the adventure.
Trip can do a lot of things for Monkey but when danger is around she will usually run and take cover. However, when needed she can create distractions, offer recon for hidden mines etc, use an EMP blast to disable surrounding mechs, hack locked doors making new areas accessible, and even repurpose other mech technology that Monkey can then use to his advantage- unfortunately, you won't be able to take control of any of the machine enemies.  Trip does all this and more all for the occasional piggyback ride- I'd say that's a pretty fair exchange, minus the headband that will kill Monkey if you get to far away from her-oh well.  Regardless, Trip definitely makes the team play throughout the platforming in the demo feel good, far from an escort game.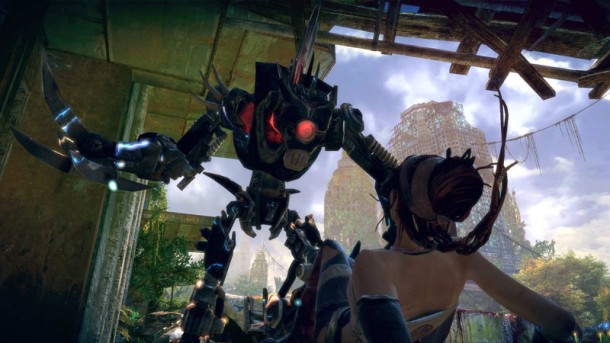 Similar to Heavenly Sword the game is meant to be very beautiful with an emphasis on story and emotion.  You will notice that even outside of the cut scenes there will be some very cinematic moments, like when you finish off an enemy with a special move, you're going to look good doing it.  Journey to the West is a great concept and how Ninja Theory has spun the idea seems promising, rather than another action adventure lacking developed plot and characters.  Enslaved is definitely something to look forward to for hours of adventure on Xbox 360 and PS3 this October.  For more concept art on Enslaved from Ninja Theory check out CGC's Concept Art from Enslaved article.
But since we love you so much here's a little more…enjoy.
Related Links
Tags: Enslaved, Journey to the West, Namco Bandai, Ninja Theory