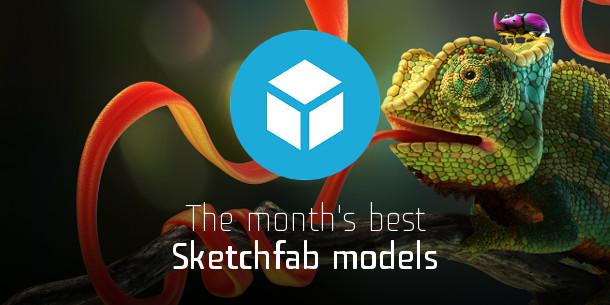 Sketchfab provides a simple way for anyone to publish and share their 3D models online. To celebrate the best in real-time 3D art, we asked the Sketchfab team to pick the 10 greatest models on the site this month.
To interact with a model in 3D, click the large Play icon in the centre of the frame.
To find out more about a model, click the small Sketchfab logo on the bottom left of the frame.
Tongue Twisted Chameleon by Nikie Monteleone
126.6k triangles
The splash screen art for Substance Painter 2018.1. See a breakdown in Nikie's ArtStation gallery
Hydra – Animated by Thanos Bompotas
162.5k triangles (after conversion), animated
See the base model and textures in Thanos's ArtStation gallery
Darth Vader by Jean-Charles Schaeffert
84.8k triangles (after conversion)
Star Wars fan art. See more renders in Jean-Charles's ArtStation gallery
Black Hand's Killzone Shadow Fall Fan Art by Pierrick Le Texier
46.2k triangles (after conversion)
Killzone Shadow Fall fan art. See more renders in Pierrick's ArtStation gallery
Artgerm's Black Canary Fan Art by Roberto Mejías
68.8k triangles
Based on Stanley 'Artgerm' Lau's fan art of the DC character
LEICA II by Konstantin Neumann
6.3k triangles (after conversion)
Board Game Tokens (Turtley Democracy) by Noah Summers
305.5k triangles (after conversion), final watertight printing meshes
3D printed tokens for the board game Turtley Democracy based on character designs by Stephan Church
Working Hard by Formation
347.4k triangles
Cartoon Stuka bomber by Tommaso Coviello
6.1k triangles (after conversion)
G.E.C.K. (2018) by goldengrifon
67.4k triangles
Fan art of the Fallout series of videogames

Want to vote for a model of the month? Just Like your favourites on the Sketchfab site, or upload your own!
Tags: best 3D models, best real-time models, March 2018, models of the month, Nikie Monteleone, real time, Sketchfab, Substance Painter 2018.1