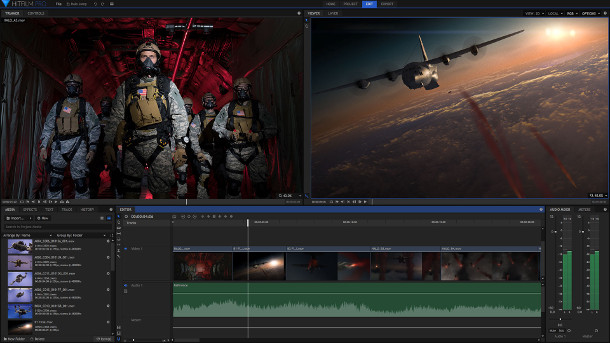 FXhome has released HitFilm Pro 6.0, the new version of its editing, compositing, VFX and grading app, adding new timeline editing, titling and 2D animation options, including a new puppet animation tool.
The update reduces the price of HitFilm Pro from $349 to $299, but at the cost of removing Ignite Pro, the $199 suite of plugins for other compositing and editing apps that used to ship with the software.
FXhome has also introduced HitFilm Studio, a product bundle including HitFilm Pro, Ignite Pro and the beta of new tool Action Pro, which enables users to record animation paths with a mouse or Leap Motion sensor.
New editing tools
The release – referred to as plain 'HitFilm Pro' in FXhome's marketing material, but 6.0 in the update notes – marks a return to the old version numbering system, following last year's flirtation with HitFilm Pro 2017.
As with the 2017 update, HitFilm Pro 6.0 extends the software's editing toolset, making it possible to create text or access any of the animation tools directly from the Editor timeline.
There is also a new Adaptive Trimmer tool, which makes it possible to re-trim a clip after adding it to the timeline; and a new Audio Hard Limiter effect for evening dynamic range between audio clips.
New layer animation and text options
New 2D animation and motion graphics options include the Puppet Tool, designed for creating cutout-style puppet animations; and Behaviour Effects for animating text and 2D objects.
The latter enable layers to move using simple physics properties, including options to make the contents of one layer move towards or be repelled by the contents of another, or fall under gravity.
There are also new geometry effects for titling, including Extrude, Bevel and Rotate. Text layers also now support environment maps, enabling text to receive specular and diffuse reflections from the environment.
Built-in viewer and new effects for 360° video
The update builds on the tools introduced in HitFilm Pro 2017 for working with 360° video, adding a new viewer panel for viewing 360° footage in its original state while adding effects to the adjusted version.
There are also 12 new built-in effects for 360° video, including blur, distort, glow and fisheye conversion.
Other workflow changes
Workflow changes include the option to customise playback quality, making it possible to reduce video quality to maintain interactivity on complex projects; and support for background media importing.
Windows users can now import intermediates in ProRes and CineForm format, and export CineForm video and PCM audio.

Action Pro: new beta product records motion paths using a mouse or Leap Motion sensor
FXhome has also released a beta of Action Pro, a new tool for recording camera or animation paths in real time using a mouse or Leap Motion sensor.
Once recorded, you can smooth out manual jitters, and adjust the scale and playback speed of the paths.
At the minute, you can only export the results to HitFilm itself, although FXhome says that it plans to support After Effects in future releases, along with the option to record using HTC Vive controllers.
At $99, Action Pro seems pretty pricey for what you get, but it's clearly at an early stage of development.
Pricing and availability
HitFilm Pro is available for Windows 8+ and Mac OS X 10.11+. New licences have an MSRP of $299 and may be installed on three separate machines.
Ignite Pro is compatible with 10 common editing and compositing applications, including After Effects and Nuke, running on Windows and Mac. The MSRP is $199.
Action Pro is available in beta for Windows 8+ and macOS 10.12+. It has an MSRP of $99, or you can pick it up as part of the $597 HitFilm Studio bundle, along with HitFilm Pro and Ignite Pro.
At the time of posting, all three products are available at a launch discount.

Read a full list of new features in HitFilm Pro 6.0 in the online changelog
Read a longer description of the new features on FXhome's blog
Tags: 2D animation, 360-degree footage, 360-degree video, Action Pro, Adaptive Trimmer, animation path, Behaviour Effects, beta, camera path, CineForm, compositing, editing, effects, Fxhome, grading, HitFilm, HitFilm Pro, HitFilm Pro 6.0, Ignite Pro, Leap Motion, motion path, new features, price, price change, ProRes, puppet animation, Puppet Tool, titling, vfx, visual effects