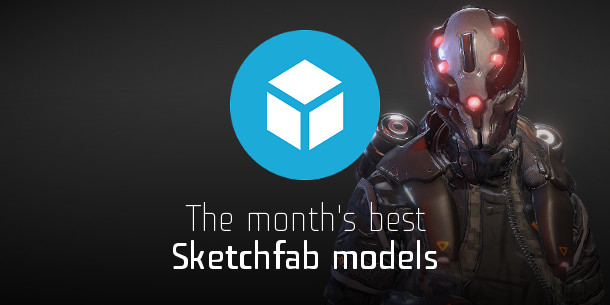 Sketchfab provides a simple way for anyone to publish and share their 3D models online. To celebrate the best in real-time 3D art, we asked the Sketchfab team to pick the 10 greatest models on the site this month.
To interact with a model in 3D, click the large Play icon in the centre of the frame.
To find out more about a model, click the small Sketchfab logo on the bottom left of the frame.
Enemy NPC by Moon Dong Hwa
16.2k faces, animated
A character model from Numix Mediaworks' first-person virtual reality shooter Quantum VR Treadmill.
Whimsical Overgrown Cottage by Jasmin Habezai-Fekri
10.2k faces
Based on a concept image by HJW (xxx).
BANGtail by Bailey Wheatland
46.8k faces
One of the monsters for Symphonic Entertainment's multiplayer online game Mad House Rodeo.
Treehouse concept by Piotr Pisiak
13.3k faces
Sauce Dragon by Topias Airas
90.1k faces
Speed Sculpt – Telegram Meme Cat by Ani K
66.7k faces
Based on the 'Meme Cats' sticker set for Telegram. Watch a timelapse video of the sculpting process.
Hannibal Lecter by Dawid K
3.2k faces
Felix Potin Shopfront by Sam Prescott
81.6k faces
An interpretation of the Felix Potin shop front in Reims, France in 1917. See more images on Sam's website.
Military Radio by Péter Gazsó
903.8k faces
Stranger Things: Last memories of Her by Mauro Bonu
152.1k faces
Inspired by the hit Netflix horror series Stranger Things.

Want to vote for a model of the month? Just Like your favourites on the Sketchfab site, or upload your own!
Tags: best 3D models, best real-time models, download, Mad House Rodeo, models of the month, Numix Mediaworks, October 2017, Quantum VR Treadmill, real time, Sketchfab, Symphonic Entertainment