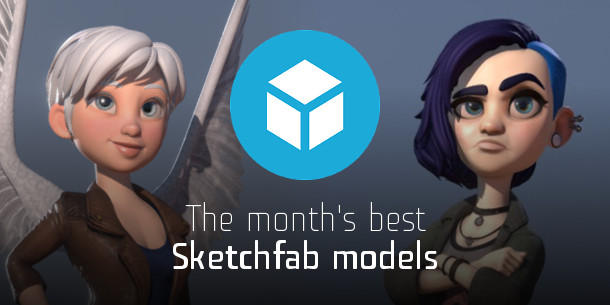 Sketchfab provides a simple way for anyone to publish and share their 3D models online. To celebrate the best in real-time 3D art, we asked the Sketchfab team to pick the 10 greatest models on the site this month.
To interact with a model in 3D, click the large Play icon in the centre of the frame.
To find out more about a model, click the small Sketchfab logo on the bottom left of the frame.
Being Good by Julien Kaspar
1.1M polygons
Characters from the short film Being Good, being created by a team of 50 volunteers, including artists from DreamWorks, ILM and Blizzard. See more assets from the film, then back its Kickstarter campaign.
Benedict (Beyond Human challenge) by Filipe Bento
43.7k faces
An entry for ArtStation's Beyond Human game art challenge. See Filipe's WIP thread here.
Young veiled chameleon by Leon Teoh
203.5k faces
Helghast Leadership Badge by Bram Delaey
21.0k faces
Based on a concept from Guerrilla Games' Killzone 3. See breakdown images in Bram's ArtStation gallery.
Mushroom King by Hamidreza Afshari
80.6k faces
Eurocopter by dafunk
44.7k faces
Source of Fel by Kevin Young
6.4k faces
Based on a concept image by Egor Belavsky.
Steam Tractor by Longin Wakuła
16.2k faces
The King by Dawid K
1.7k faces
Isoland – isometric town by Charles Coureau
26.7k faces

Want to vote for a model of the month? Just Like your favourites on the Sketchfab site, or upload your own!
Tags: best 3D models, best real-time models, download, models of the month, real time, September 2017, Sketchfab