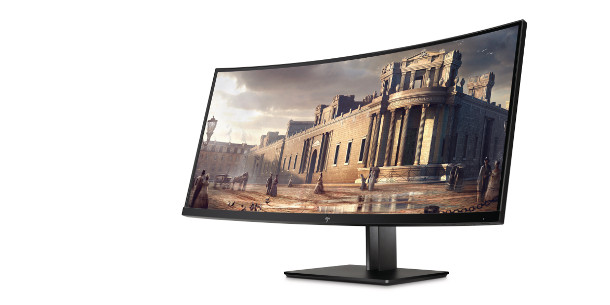 HP has released the Z38c, a curved 37.5-inch display designed to replace dual-monitor set-ups for CG work.
The release accompanies the announcement of six new flat-panel displays in HP's Z Displays range: the HP Z22n G2, Z23n G2, Z24i G2, HP Z24n G2, Z24nf G2, and Z27n G2.
A 37.5-inch UW4K display capable of simulated 10-bit color depth
HP already manufactures a number of large-format IPS panels for graphics work, but at 37.5 inches across the diagonal, the HP Z38c is its largest display yet.
The firm describes it as playing the role of traditional dual-display set-ups, in which the software UI is displayed on one monitor and the image on another, but "without the distraction of a bezel in the middle".
Like Dell's similarly specced and similarly priced UltraSharp U3818DW, released earlier this year, it has a 21:9 aspect ratio and supports UW4K resolution (3,840 x 1,600px).
That makes it large enough to display two FHD (1,920 x 1,080px) images side by side – or a single QHD (2,560 × 1,440px) image and some UI panels – but means that it lacks the vertical resolution of standard 4K.
Unlike HP's DreamColor range, the Z38c isn't a true 10-bit display – it's 8-bit plus FRC, so it uses dithering to approximate the extra colours – but it has the same 1,000:1 static contrast ratio and 178° viewing angle.
The connectivity options are standard for a professional display – DisplayPort 1.2, HDMI 2.0, USB-C – although there's only a single USB-C port, rather than the four offered by the DreamColor displays.


A complete refresh of HP's Z Displays series of flat-panel narrow-bezel displays
For anyone looking for a more conventional monitor, HP has also updated its Z Displays range of flat-panel, narrow-bezel displays, releasing six new second-generation models.
Like the first-gen models they replace, the Z22n G2, Z23n G2, Z24i G2, HP Z24n G2, Z24nf G2, and Z27n G2 are 16:9 and 16:10 displays ranging from 21.5 inches to 27 inches across the diagonal.
Aside from the QHD Z27n G2, they're all FHD displays; all are 8-bit (6-bit plus FRC) and display between 95% and 99% of the sRGB colour gamut; and all have a 1,000:1 static contrast ratio.
Connectivity varies, although all support DisplayPort 1.2 and HDMI 1.4. You can see a comparison table here.
Pricing and availability
The HP Z38c curved display is available now and costs $1,199.
The Z22n G2, Z23n G2, Z24i G2, HP Z24n G2, Z24nf G2, and Z27n G2 cost from $199 to $499. The Z24n G2 and Z27n G2 are due to ship in December; the remaining four models are available now.

Read an overview of all of the new displays on HP's website
View the full data sheet for the HP Z38c 37.5-inch curved display
Tags: 37.5-inch, 4K, bit depth, cg, color gamut, contrast ratio, curved display, Dell, display, DisplayPort, DreamColor, FHD, HDMI, HP, HP Z24n G2, IPS, monitor, price, QHD, release date, resolution, specifications, UltraSharp U3818DW, UW4K, vfx, video editing, viewing angle, Z Displays, Z22n G2, Z23n G2, Z24i G2, Z24nf G2, Z27n G2, Z38c