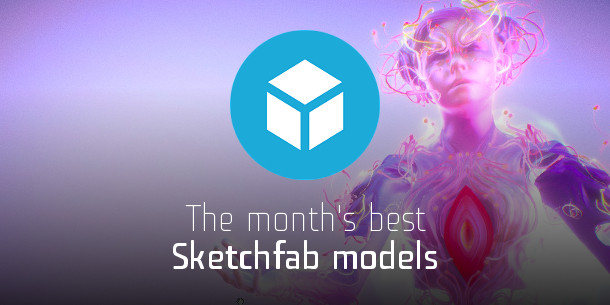 Sketchfab provides a simple way for anyone to publish and share their 3D models online. To celebrate the best in real-time 3D art, we asked the Sketchfab team to pick the 10 greatest models on the site this month.
To interact with a model in 3D, click the large Play icon in the centre of the frame.
To find out more about a model, click the small Sketchfab logo on the bottom left of the frame.
Bjork – "Family" (Lilac) by Andrew Thomas Huang
34.9k faces, animated
An avatar from Björk's 'Family' VR experience, created by Andrew Thomas Huang in collaboration with Björk and James Merry, designer of her iconic Vulnicura masks.
Crossout – Immortal Warrior by Crossout
130.8k faces
An asset from Targem Games' free-to-play MMO Crossout.






V8 Airboat by Joshua McCarthy
11.0k faces
Grahn Stormhammer by Justin Ethington
5.0k faces
A character from Crystals of Fate, Skymarch Entertainment's real-time strategy/collectible card game. Based on a concept image by John Stone.






Zantino by dlugoon
13.3k faces
ZELDA by Daniel Ruda
46.0k faces
Cave Troll by Marc-André Dupont
40.5k faces
Based on a concept by Patri Balanovsky.






Summer Days by Gregory Khodyrev
44.1k faces, free download
Based on a concept image by Luca Saponti.






Snail Fantasy World by Henry Rietra
19.7k faces
See more renders in Henry's ArtStation gallery.






Animated The Kiss 3D by E Lynx
24.6k faces, animated
An animated tribute to Gustav Klimt's painting of the same name.

Want to vote for a model of the month? Just Like your favourites on the Sketchfab site, or upload your own!
Tags: Andrew Thomas Huang, best 3D models, best real-time models, Björk, Crossout, Crystals of Fate, May 2017, models of the month, real time, Sketchfab, Skymarch Entertainment, Targem Games, The Family, VR