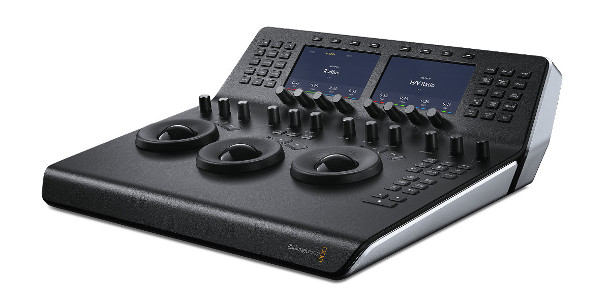 Blackmagic Design has introduced two new dedicated hardware control panels for DaVinci Resolve, its colour correction and editing software.
The new panels, both of which cost under $3,000, are designed to enable colourists to adjust the look of footage more quickly and intuitively than with a mouse and keyboard alone.
Affordable hardware controls for affordable grading software
Although an established part of grading workflow, dedicated hardware panels are traditionally associated with high-end turnkey systems, not software solutions like DaVinci Resolve.
While Resolve's own Advanced panel has been available for many years, at the best part of $30,000, it sat oddly with a piece of software than now costs under $1,000.
The two new options – the $995 Micro panel and the $2,995 Mini panel – are far more affordable.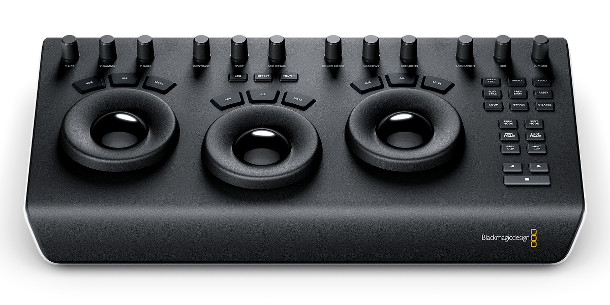 The Micro (above) is USB-powered, and includes three trackball controls, 12 knobs for accessing the software's most common primary colour correction features, and a set of transport and grading buttons.
The Mini (image at top of story) is powered independently, and includes all of the same controls as the Micro panel, along with two further LED screens and an extra set of buttons.
The layout of the controls on both new panels is similar to that on the old Advanced panel, making it easy for users to move between the three.
Blackmagic's Design's news release is also at pains to stress the build quality of the new models, describing them as "true professional-grade hardware control panels".
New in DaVinci Resolve 12.5.5: Linux support for users of the free edition
The software itself has also been updated, primarily to support the new hardware panels.
However, the DaVinci Resolve 12.5.5 update also includes a number of other new features, the biggest of which is that the free edition of the software is now available on Linux.
Previously, the free edition was only available for Windows and Mac OS X; if you wanted Linux support, you had to buy the $995 Studio edition.
Pricing and availability
Both new hardware panels are available from Blackmagic Design resellers worldwide. The DaVinci Resolve Micro Panel costs $995 and the DaVinci Resolve Mini Panel costs $2,995.
DaVinci Resolve 12.5.5 is available for 64-bit Windows 8.1 Pro, CentOS 7 and RHEL Linux, and Mac OS X 10.10.5. You can find a feature comparison between the free and $995 Studio editions here.

Read full specifications for the DaVinci Resolve Micro and Mini panels on Blackmagic Design's website
Tags: Blackmagic Design, color correction, control surface, DaVinci Resolve, DaVinci Resolve 12.5.5, DaVinci Resolve Micro, DaVinci Resolve Mini, editing, free, grading, hardware panel, Linux, price, specifications